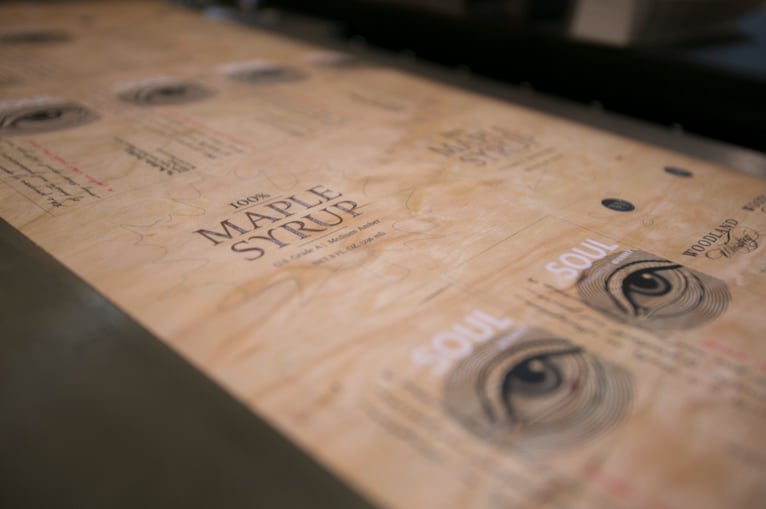 Packaging and Touch
Packaging, on the whole, is a tangible product. Packages are things – things you not only see or hear, but things you hold. Our products don't live in the Cloud, nor can they be put to use on social media. Packaging exists to serve purposes solely within our physical world.
What if you could capitalize on the tangibility of packaging by making it something your customers actually want to touch and feel?
Wood Veneer Delivers a Unique Product Label Experience
Thanks to Mother Nature and Graphic Wood Technologies, this is now a reality. The BoxMaker offers Graphic Wood Technologies' real wood top sheet for product labels, delivering an interactive and sensory experience to your customer.
No material feels like wood – except wood! These substrates have the unique texture you can only get from real wood, making a truly "natural" connection to many of today's brands.
Wood veneer gives you an opportunity to be distinct, especially since the wood is naturally unique – no two labels are alike.
The wood veneer is available in two species: Birch and Cherry, and all logs are hand selected and harvested by certified-sustainable sources. Plus, for each log used, Graphic Wood Technologies donates back 10-15 seedlings. And thanks to the efficient equipment and production processes they've developed, Green Wood Technologies uses the least amount of energy and resources possible.
Wood Finish Labels for Product Differentiation
Each pressure-sensitive label will be naturally unique in color and grain, setting your brand apart from all the ordinary paper labels crowding the shelves. The labels can be applied using automated label application equipment, and they easily flex and bend around bottles and tubes.
Labels can be fully printed to to combine color with the wood finish, or the wood tone can be left exposed for a more natural look.
Return to Nature with Natural Wood Product Labels
If you're looking for packaging that will stand out from the competition, make a natural connection with your customer, and deliver a unique sensory experience, wood veneer could be for you.
Digital Print and Production, Structural Design, Shipping and Fulfillment, Packaging Solutions