Not All Bonds are Created Equal
Movement, transportation, and extreme temperature conditions all put stress on the bonds that hold products and manufactured goods together. From planes, trains, and automobiles to horse trailers and highway signs, many objects designed to move are bonded with rigid rivets or fasteners. These traditional solutions may get the job done, but experience wear and tear over time that can ultimately result in a failure of the bond - and that's bad for business.
Additionally, rivets and fasteners may provide effective function, but they don't always complement the form of a design. The potential for a beautiful curve or smooth surface can be easily interrupted by a series of screws, bolts, or welding that are the result of the manufacturing process used to hold the final product together.
Enter: VHB™ tape. A modern solution for a high-tech and form-forward world, designed to maintain its bond even in harsh conditions.
What does VHB™ stand for?
The "VHB" in VHB™ tape stands for "very high bonding." These tape products are designed to create a permanent, flexible bond between two surfaces and can effectively fuse a variety of materials.
The first VHB™ tape was originally created in 1980 by 3M™. Today, 3M™ VHB™ Tapes offer best-in-class solutions for a variety of industrial applications for both interior and exterior bonding.
Get a Quote for 3M™ VHB™ Tape from The BoxMaker >>
What materials can VHB™ tapes bond?
VHB™ product lines are manufactured to fit a variety of applications. There are VHB™ tapes to bond aluminum, steel, glass, plastics, and painted or powder-coated surfaces, just to name a few. There are also VHB™ tape solutions for high- and low-temperature environments.
How does VHB™ tape work?
The powerhouse behind VHB™ tape is its "viscoelastic" core. VHB is a high-strength, double-sided acrylic foam tape which allows it to absorb energy- and stress-relaxing forces that cause normal tape products to fail in critical applications. This technology in many cases eliminates the needs for traditional fasteners such as rivets, screws, and bolts and offers a distinct advantage over these methods by distributing stress loads across the entire joint. Additionally, the long-lasting bond that is created by VHB builds strength over time. According to 3M™, VHB™ tapes bond on contact, assemble easily, and can be cut to precise shapes and sizes for custom applications.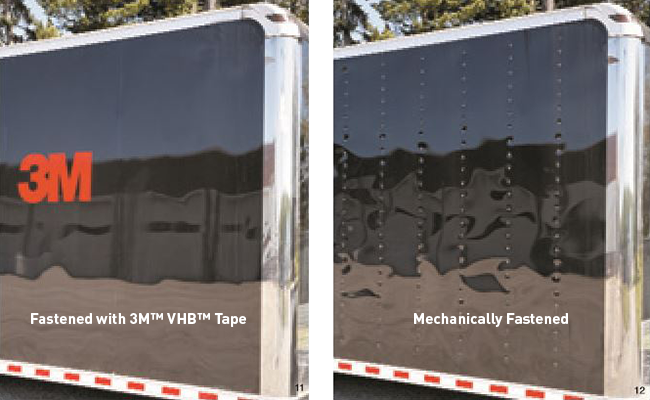 What is VHB™ tape used for?
VHB™ offers applications for the transportation industry, metal fabrication, construction, electronics, signage and more. Since its introduction into the mass market, engineers have been leveraging the value of this bonding solution to streamline manufacturing, increase product durability, and improve product appearance.
Some specific VHB™ tape application examples include:
Bond and seal polycarbonate lens over LCD
Lens and touch panel bonding
Bond and seal plastic windows to pre-painted control panels/switch gear
Mount vinyl wiring ducts and conduit channels
Seam vinyl banners
Logo attachment
POP and display construction
Bond architectural signs to frames
Attach trim and extrusions
Hat channels and stiffeners
Panel bonding
LED and sign component bonding
These are only a sample of possible applications, the list of ways you can enlist VHB™ into your engineering and manufacturing designs is endless!
Can VHB™ tape be removed?
By design, VHB™ tapes are intended to form a permanent bond between two surfaces. As such, removing an object that has been bonded to a smooth surface by way of VHB™ can prove challenging. At best, attempting to separate the bond will result in a ruined surface and remaining adhesive residue. 3M™ does provide tools designed to assist in the effective removal of residual materials left by a broken bond, but they are not guaranteed to work in all instances. Contact your VHB™ tape supplier to discuss your particular scenario.
Choosing the Right VHB™ Solution for Your Product Application
In addition to the material or materials being bonded, a variety of factors go in to determining the right VHB™ tape solution for your specific situational needs.
As a 3M™ Certified Partner, The BoxMaker is uniquely positioned to consult directly on your product application. We offer custom 3M™ VHB™ Tape converting, including slitting and die-cutting for short-run and quick-turn projects.
Where will your imagination take you? Learn more about what can be achieved with VHB™ tape and get in touch with our Packaging Advisors today!