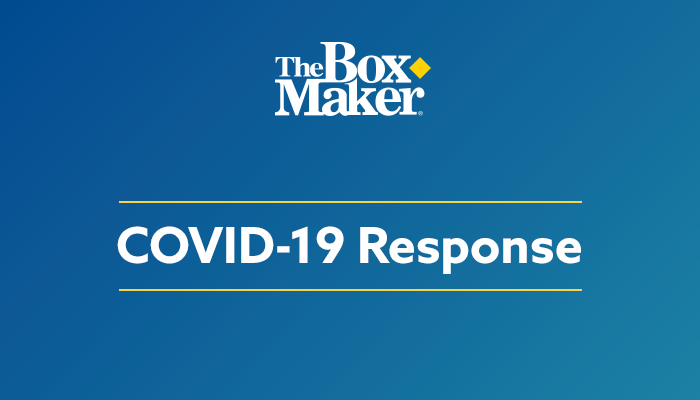 To our valued clients:
The BoxMaker is committed to your safety and to the safety of our coworkers during the recent COVID-19 outbreaks.
At this time, The BoxMaker does not anticipate any raw material supply challenges or disruption to our production or distribution. If needed, we have supply chain processes and protocols in place to help us manage through emergency situations. Should any of our facilities be impacted by COVID-19 in the future, our teams are prepared to shift inventory and manufacturing capacity to different locations to minimize any disruption to you, our clients.
Due to the nature of our business, it is not possible for all of our coworkers to operate remotely. However, all BoxMaker coworkers who can reasonably work from home have been invited to do so since March 7th. Additionally, all coworkers have been instructed to stay home if they exhibit any signs of illness or have had direct contact with someone with a confirmed case of COVID-19. If a coworker exhibits any signs of illness while at work, they will be sent home. All onsite coworkers and visitors are being provided disposable masks to wear, or are wearing reusable cloth masks, during their time at The BoxMaker. We have added additional cleaning supplies to all BoxMaker locations and are ramping up efforts to sanitize common areas and visitor spaces on a daily basis. Deep cleaning of our manufacturing facility in Kent is taking place with a 3rd party on a regular basis as well. We are also evaluating and minimizing all business-related travel.
Despite the recent challenges that the novel coronavirus has placed on the business community, we are here for you. Our sales staff and design teams are happy to host client meetings virtually, and as always, we are ready to serve you via email and phone. The BoxMaker is open for business, and we know you are, too. Please let us know how we can meet your custom packaging needs during this time.
If you have any questions or concerns, please do not hesitate to reach out to myself or your Sales Representative directly.
Thank you,
Richard Brown, President