When It's Going Like Gangbusters
It's really happening - you started your small business and you've grown it to the point where it's humming along. Just when you think you've made it, you start to experience some of the pain points that come with significant growth, and you've got a whole new set of business problems to solve.
One of the major challenges that growing businesses often face first is the issue of space. If you're a small to mid-sized manufacturer with limited capital to invest in additional product warehousing, you may find yourself wondering what to do and where to turn once you've maximized the square footage of your existing plant. You must choose what to dedicate your space to - the manufacture of more product, or the storing of your raw materials and finished goods. One item that can take up a significant amount of your limited space is packaging.
What Causes a "Space Case?"
A period of major growth in your business can lead to quick changes in your warehouse. Before you know it, you may be out of space. Full warehouses can also be caused by over-purchasing. Your buyer may have had good intentions in choosing to order a large volume to reach a target price or beat a price increase, but this approach simply moves or hides the costs. If your inventory isn't moving in 60-90 days there are hidden carrying costs involved. You may also face an issue with packaging obsolescence.
Organizations often find their cash tied up in unused inventory when they focus on unit price rather than total cost of procurement. If purchasing personnel are given unit price targets and measured against this as a metric, the tendency is to consider warehousing costs and cash outlay as someone else's concern. As expected, the purchasing agent becomes focused on achieving clean reporting and cost savings rather than best serving the long-term big picture of the business.
Warehousing Solutions for When You Reach Your Max
When businesses recognize that they are facing a warehousing space issue and they need a solution, leasing additional space offsite is typically the first option that comes to mind. But buyer beware - this quick fix adds more cost than just the lease - you're also adding to the complexity of your business. Now you have inventory in two locations that needs to be moved back and forth, meaning you must have the personnel to do so and a method for keeping track of what's here and what's there.
A second option is to reduce your raw materials and supply purchases into smaller lots. This can help solve your space issue, but you may be giving up volume cost savings or face a shortage of supplies when demand for your product suddenly picks up. You don't want a delay in your next shipment of packaging to cause you to miss out on fulfilling orders in time - the reputation of your business is at stake.
The best solution to solving your warehousing issue is to build strong partnerships with suppliers who can help you determine the most cost-effective run quantities of your goods, and offer warehousing with just-in-time delivery that can match your on-hand inventory to the ebb and flow of your manufacturing demands.
What to Expect from a Warehousing Partner
If you choose to leverage your relationships with your suppliers and create mutually beneficial partnerships to solve your warehousing challenges, your business will deeply benefit. To build this type of relationship and truly reap the rewards, you can expect to be asked to share information on many aspects of your business.
When it comes to packaging, a good partner will want to know:
What are your current run quantities and costs?
What is your current use or consumption within a reasonable timeframe for your business (such as one week or month)?
How much product are you holding and what is your target for reduction?
Do you currently use an offsite warehouse? If so, how many miles is it from your production and shipping? How many square feet is it and what is the actual cost (including taxes, labor, etc.)?
Do you know your fully loaded carrying costs?
What are your fully burdened labor costs?
Sharing this type of information with your packaging supplier can empower companies such as The BoxMaker to offer solutions based on actual information and return on investing in changes. Even if you are only able to shed light on some of these items, positive solutions can be designed.
Most importantly, keep in mind that one size does not fit all. A responsible supplier will typically make several suggestions. At The BoxMaker, we have the benefit of size, location, and experience, which gives us latitude to be creative with our suggestions and build client-specific proposals. For example, we may suggest maintaining all inventory on our floor and delivering daily, or we might find that our client has great production planning and we can deliver just in time prior to a production run of a specific SKU. No matter the solution, our clients can rest easy knowing they have received a well thought-out and customized program that takes into consideration multiple criteria and addresses more than the singular pain point of bursting at the seams.
A Warehousing Success Story: Kombucha Town
Located in Bellingham, Washington, Kombucha Town operates a 3,500-square-foot brewery that features their own canning line plus a 500-gallon commercial brew kettle, several conditioning tanks, and dozens of fermentation vessels. Originally contacting The BoxMaker for assistance with printed trays, Bellingham Branch Manager Mike Jerome quickly realized another way in which we could assist Kombucha Town with their growing business.
The Challenge
During a period of rapid growth, Kombucha Town was faced with the choice of expanding their manufacturing production line or continuing to store their empty aluminum cans onsite within the space limitations of their existing warehouse.
The Solution
In addition to providing the originally requested printed trays, The BoxMaker arranged to store Kombucha Town's empty aluminum cans onsite at our Bellingham warehouse so that the client could fully dedicate their own space to their manufacturing line. 660,000 cans were moved to our warehouse same-day (that's four full 53' truckloads!), totaling approximately 1300 square feet of product.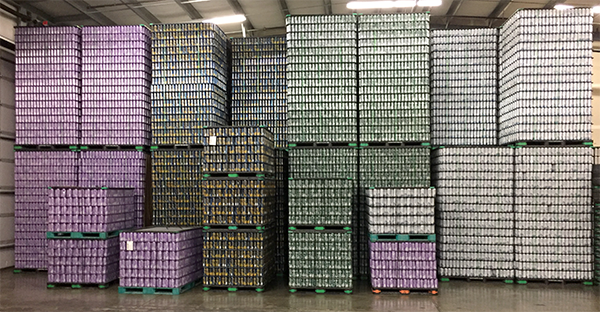 The BoxMaker manages these cans as Customer Owned Inventory (COI). Each week Kombucha Town provides us with a list of what is needed based on their production schedule, and we deliver their inventory on our own trucks, along with the printed corrugated trays and additional packaging supplies such as stretch wrap.
The Results
Because of the solution provided by The BoxMaker, Kombucha Town avoided the costs of additional warehousing space at their manufacturing facility, as well as the cost of a forklift to move cans and the dedicated manpower to manage and move the inventory. We have estimated this to be a cost savings of $5K per month.
Today, Kombucha Town can fully dedicate their space to do what they do best - produce their delicious Kombucha beverages - rather than warehouse their packaging. This allows them to maximize production as their business grows. Additionally, this solution allowed the client to purchase larger volumes of pre-printed cans (previously they were applying printed labels to the cans). As a result, the per unit cost of each can was reduced, the labor cost of applying the label was eliminated, and the direct printing method increased the visual appeal of their packaging.
For more information on Kombucha Town, follow them on Facebook and Instagram!
Key Takeaways
When your business is growing and you can no longer fit all your operations and materials into the same space, choose to focus on what you do best (making your product), and partner with other professionals who can take something off your plate by doing what they do best. Leveraging partnerships with the experts in your area can save you time, money, and the headache of managing it all.
For more information on The BoxMaker's warehousing and just-in-time inventory services, contact us today.
For the latest industry news and to learn more, follow us on LinkedIn: