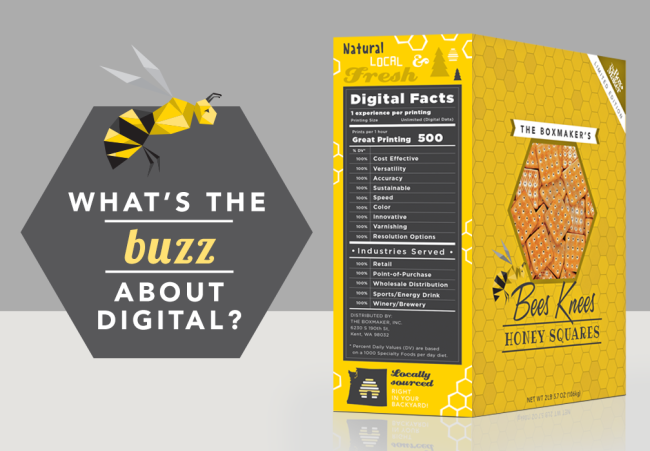 We have the capabilities to meet all of your unique needs.
Anyone in this business will tell you that packaging companies are typically known for two things: square footage and large orders. But The BoxMaker isn't just any packaging company.
As a company that prides ourself on service, and believes we are centered here to service all of our clients, we work tirelessly to accommodate both small and big businesses alike.
Tonia Olson, Director of Digital and Label, explains, "clients often ask us 'can you work with me if I'm small?'" Through our Inside Sales team, the BoxMaker is uniquely set up to handle small businesses. And with a department geared specifically at helping smaller companies, from new kids on the block to seasoned neighborhood mainstays, you can count on us to meet all of your unique needs.
Our expert team of Inside Sales representatives serves as the entry point for small businesses. Whether your business is in need of digital printing, labels, corrugated shipper boxes, supplies, or perhaps needs a variety of products and services, we can work with you and scale to your business' needs. With services such as consultation from inception on a prototype and the ability to produce smaller runs, our services allow smaller businesses to be more nimble.
Let's pose a hypothetical – you're a young specialty foods company looking for labels and a small amount of packaging. As Tonia explains, "digital really allows you to print the exact quantities you are looking for without the investment of upfront dies or plates. You're able to experiment and see what works best for your brand." If an ingredient changes, or if the design needs to be tweaked after the product launch, digital gives you flexibility to do so. With digital, you can change up your messaging and do something unique, allowing smaller businesses to have more fun with their brand with the ability to set themselves apart.
Another benefit is that many small businesses don't have the square footage to house inventory. The BoxMaker can set businesses up on a monthly delivery and JIT (just-in-time) program, so they are not putting money out and signing up for products they can't manage. With The BoxMaker, you can order exactly what you need, and you can do it on a monthly basis. Digital is a great entryway for new and small businesses to keep their costs down and their brand fresh.
Supplies are another area where we support small businesses. We offer stock boxes, flexible packaging, bubble wrap, foam, tapes, and a handful of janitorial products to maintain your business.
At The BoxMaker, we're set up to be your partner in growth as you take the next steps, from small business to midsize to large. As you progress, we progress with you. Contact us today to learn more about how we support small businesses!
Digital Print and Production, Small Business, Sustainability, Packaging Solutions