With Christmas right around the corner, you may find yourself needing to make last minute changes to your seasonal packaging and display. At The BoxMaker, we have the capabilities to help you make quick updates to ensure that your holiday messaging is merry and bright!
With Halloween this weekend, we thought we would take a look at what retailers are doing with their packaging and display this season to scare away the competition!
Catching the Consumer Eye With Festive Packaging and Display
Walk into any grocery store in America and you will see several examples of packaging and displays reflecting the Halloween spirit. From the large corrugated pumpkin bins outside the store, to the Hershey's and Mars shelf-ready candy boxes when you walk in, to the designs printed on the labels and cartons of the products themselves – it seems everywhere you look, you will find a reminder of the upcoming holiday.
Here are some fun examples of Halloween packaging and displays that you might see this fall: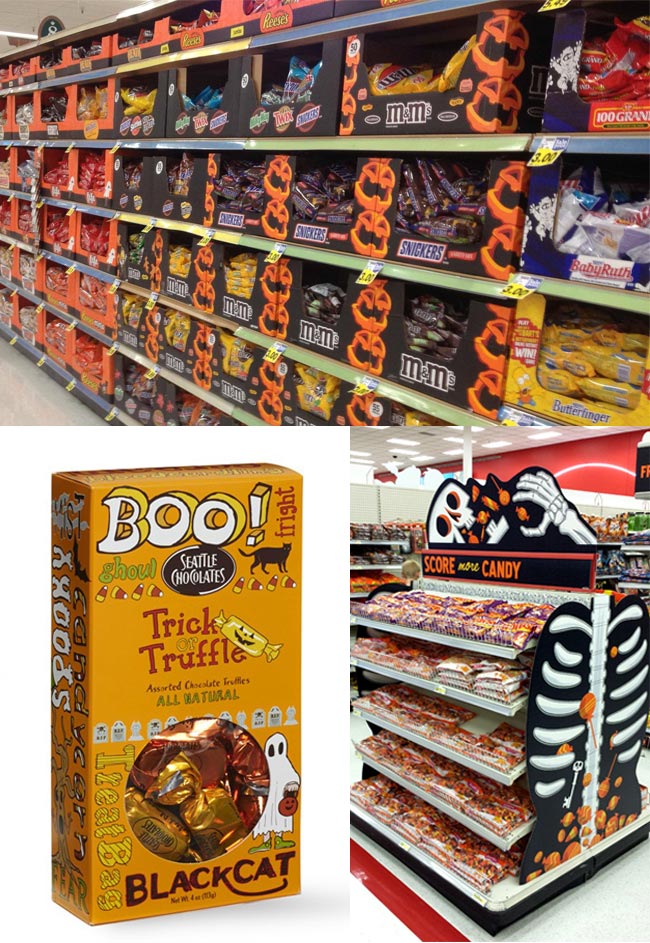 But what happens on November 1st?
The beauty of today's technology is that we can apply digital print methods to packaging and display in order to turn around seasonal projects quickly while they are still relevant. Your brand needs to move quickly and stay fresh to capture your consumer's imagination and attention. Digital print allows you to keep your messaging fresh without a huge setup cost per project, so you can order just enough displays for this holiday, and remain relevant throughout the year.
While Halloween displays have already hit the retail floor, now is the perfect time to think about Thanksgiving and Christmas – plan your holiday packaging today and let The BoxMaker help you bring it to life with our digital packaging and display capabilities.
Image sources:
http://i.imgur.com/g1frTDf.jpg
http://www.i-mockery.com/blabber/2013/09/17/halloween-finally-arrives-at-target-plus-a-halloween-contest-ending-sunday/
http://www.seattlechocolates.com