Image Source: Amazon.com
Key takeaways:
Consumer preference for sustainable products is on the rise
Amazon has identified over 25,000 products on its platform as Climate Pledge Friendly
Brands can obtain the Climate Pledge Friendly badge for their products by meeting one of 19 different sustainability certifications
Optimizing product packaging for size and material choice helps brands meet the Compact by Design certification
What is the Climate Pledge Friendly Program?
In 2019, Amazon co-founded The Climate Pledge, a commitment for their business to be net-zero carbon by 2040. To reduce or offset their carbon footprint in this timeline, Amazon is taking several steps, one of which is making it easier for consumers to discover and shop for more sustainable products.
Image Source: Amazon Blog
The Climate Pledge Friendly Program, which launched in the fall of 2020, aims to help consumers make climate-conscious purchases by labeling products sold on Amazon's platform that have met one or more of 19 different sustainability certifications.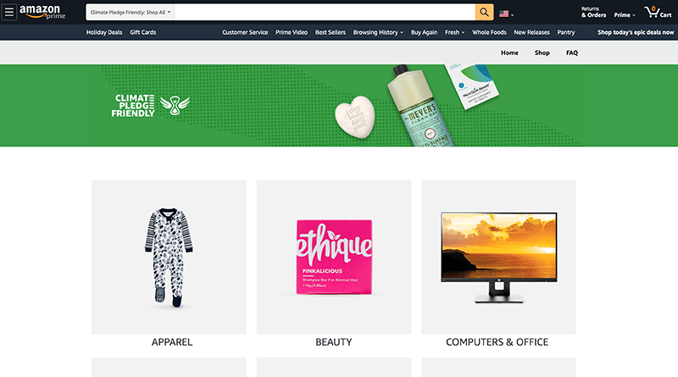 Image Source: Amazon.com
According to Amazon's press release, "Climate Pledge Friendly products are clearly labeled in shopping results, have additional sustainability information on the product page, and are featured in a dedicated section of our store. Amazon has partnered with trusted third-party certifications, and customers will be able to discover sustainable products that meet sustainability standards that help preserve the natural world."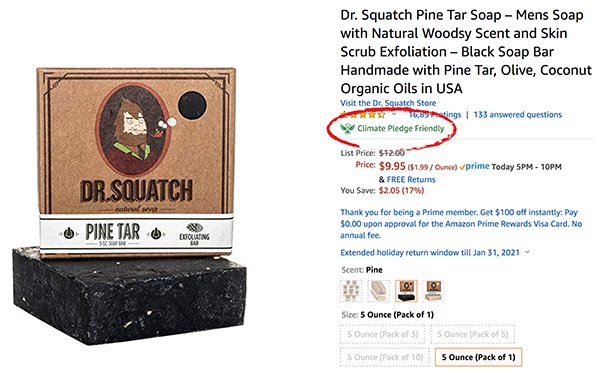 Image source: Amazon.com
Consumers Care About Climate Change
Concern over climate change is growing in the United States, and consumer demand for sustainable products is rising. According to Forbes, purchases from small ethical brands have doubled over the last five years. The creation of the Climate Pledge Friendly program by the leading company in e-commerce sales in the United States indicates that consumers will continue to prefer sustainable products and packaging. Conclusion? It's good business to be Climate Pledge Friendly.
Reducing Your Packaging's Carbon Footprint
Product packaging plays a significant role in carbon footprint. One of the 19 sustainability certifications included in the Climate Pledge Friendly program is Compact By Design, which encourages efficient packaging design. By using less material, eliminating plastics, and optimizing your e-commerce packaging for the shipping and distribution process, brands can significantly reduce their carbon emissions.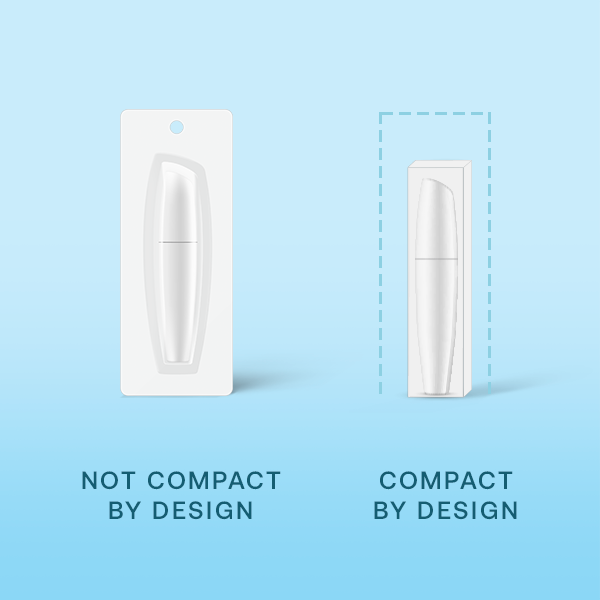 Image Source: Compact by Design
Efficient packaging designs are not only an excellent choice for the environment, but they are also a perfect choice for customer experience. Compact by Design goes hand-in-hand with another program championed by Amazon, Certified Frustration-Free Packaging (FFP).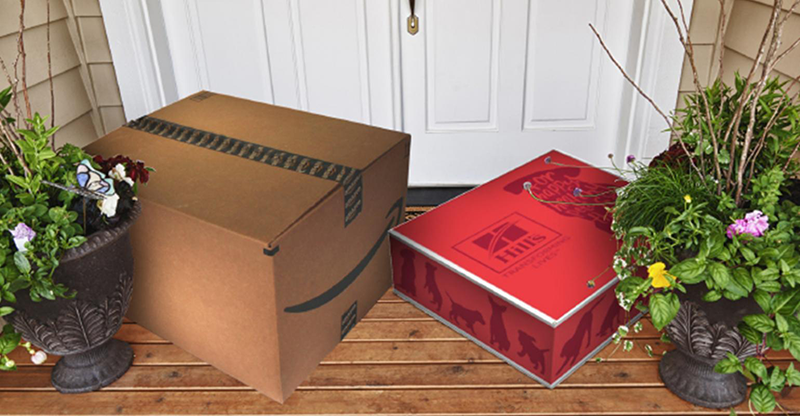 Image Source: Packaging Digest
Simple and straightforward packaging experiences delight consumers and can simplify the packaging process. Frustration-free packaging is right-sized, reduces damages, is made of recyclable packaging materials, and is easier to open. Since Amazon launched this program in 2008, the concept has been adopted by many other major e-retailers since, including Walmart.com. Frustration-free packaging fuels the consumer's need for convenience and helps satisfy the demand for environmentally friendly packaging choices.
It Pays to be Climate Pledge Friendly
For brands who sell products on Amazon, working to obtain the Climate Pledge Friendly badge is most likely a worthwhile investment for your customer acquisition and retention strategy.
Here are some critical steps you can take to reduce your product packaging carbon footprint:
Right-size your packaging for your product
Eliminate plastic packaging components
Consider SIOC solutions (Ships In Own Container) to reduce packaging material use
Choose renewable and sustainably sourced packaging materials
Start Improving Your Packaging's Environmental Profile Now
Ready to reduce your packaging's carbon footprint? The BoxMaker's award-winning structural design team is prepared to help. Contact a Packaging Advisor today.