Producing an exceptional retail package is a combination of choosing the right structural design, material, print method, and graphic elements. The options within each of these categories are many, and your choice in one area may influence or dictate your choice in another. Depending on your product and the end result that you want to achieve, you may use any one of these considerations as your starting point in creating a successful outcome for your box or display.
When it comes to retail, quality counts. Brands understand that in the retail environment consumers will be face-to-face with their product packaging, whether it be a corrugated box or point of purchase display. Print quality and graphic elements are highly important in this environment.
For this reason, the go-to print solution for these applications has traditionally been litho lamination (litho lam). That's because this method offers fine detail in full color across a variety of mediums. In particular, litho lam shines when it comes to corrugated packaging and retail displays because it offers an impressive shelf-ready finish at scale.
Litho Lamination: What is It?
Litho lamination is the process of printing decorative graphics onto paper liner board by way of offset lithography, and then laminating that printed liner board onto a backing board (such as corrugated).
Offset lithography is based on the concept that oil and water repel one another. Lithographic presses utilize two print plates – a positive and a negative – to transfer high quality color graphics onto a suitable substrate.
The positive plate has a smooth surface that accepts oil-based inks and repels water. The negative plate has a rough texture that absorbs water and repels oil. Rubber rollers are used to extract water from the negative plate and expel the ink from the positive plate. They then transfer the image onto the print medium. A separate print plate is needed for each color (CMYK) to be printed.
The Advantages of Litho Lamination
Because litho lam prints to the liner board before it is attached to the corrugated fluting, it has the advantage of printing on a smooth surface. Corrugated material, while excellent for product protection, creates a challenge when attempting to achieve fine detail and high quality full-color print.
For high-volume print runs, litho lam can be a cost-effective way to produce retail-ready packaging at scale. When a brand requires tens of thousands of identical impressions (or more) without sacrificing quality, litho lam is the way to go.
Potential Pitfalls
There are things that come with the territory of a litho lamination job that must be considered when selecting the print method for your packaging project. Litho lam often requires generous lead times (several weeks), some type of minimum volume order, and built into the price will be tooling and setup costs associated with manufacturing the print plates and prepping the press. None of these aspects of litho lam are a drawback if your project has ample time, budget, and the right volume to justify the investment.
An additional consideration becoming more relevant by the day is customized messaging. Millennials and Generation Z demand more from today's brands, and a personalized experience driven by packaging can be a major influencer on their decision to purchase. Because litho lam depends on print plates to transfer images onto packaging (resulting in mass production), creating targeted campaigns comes with a cost. Additional sets of plates must be manufactured and purchased for each artwork variation that is to be printed.
What about Digital Print?
Digital print for wide-format corrugated packaging and display offers many of the same features as litho lamination, along with some added benefits.
The Advantages of Digital Print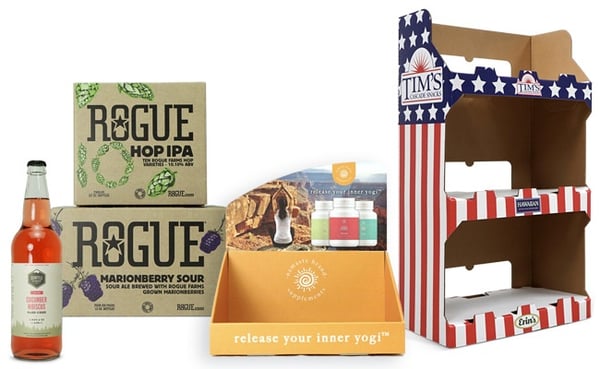 Digital print is applied directly to the material surface, in this case corrugated board. No print plates are required to transfer the image. This enables many benefits:
Fully CMYK Color Printing: Digital delivers full color printing at no additional cost
Reduced Tooling Costs: No print plates must be manufactured and purchased for digital print
Reduced Time to Market: Digital print is ready to go to press as soon as the artwork file is available – this means your packaging is in hand in days, not weeks
Variable Artwork: With digital print, every impression can be completely unique, opening the door to customized marketing
No Minimum Volume Order: Digital print is calibrated so that the first impression to the last are identical in quality, and thus order sizes of 1 can be achieved
High Maximum Volume Order: Digital print has advanced in speed and quality in recent years and manufacturing plants running the latest equipment can produce high volume orders with ease
Today's digital presses are designed with quality in mind and have overcome the challenges that detailed graphics previously posed to direct-to-board printing.
You can read about each of these benefits in more detail in our article, "Why Choose Digital Print."
Digital Print: The Dawn of a New Future
Innovation in digital print continues to push forward to deliver the highest quality print at a comparative speed to traditional print methods. These developments unlock the potential of digital for brands that require a scalable solution. Imagine a world where you can launch a campaign with 50,000 packaging units that all feature a unique artwork impression. With digital print, that world exists today.
Which Print Method is Right for You?
Choosing between litho lamination and digital print for your packaging project depends on your specific needs. If you're short on time, desire any level of variable graphics, or have specific volume needs, digital print is a great solution. If you're running 100,000 identical impressions for a campaign set to launch in 3 months, litho lam may be the more competitive choice.
If you're not sure which method is best, our Packaging Advisors are happy to discuss your project and put a game plan together.
Where to Learn More

For brands with a presence in the Pacific Northwest, The BoxMaker is proud to be a resource for all of your packaging questions and needs. We have been pioneering digital print for 8 years and today run the largest Digital Production Center on the West Coast. We are more than happy to host your group for a tour and brainstorming session in our Experience Center.
Digital Print and Production, Packaging and Print Technology, Packaging Manufacturing