The BoxMaker, a Pacific Northwest leader in digitally printed packaging solutions, has been selected by HP, Inc. to provide corrugated displays for the technology leader's upcoming launch of their Designer 4 Designers (D4D) app at Adobe MAX. Distributed by Adobe, this new app enables designers to harness the power of digital print by leveraging HP SmartStream software to randomize and personalize packaging designs.
Showcasing Digital Print at Adobe MAX
The digitally printed displays will be showcased as part of PrintFest at Adobe MAX, taking place October 14th – 17th, 2018 in Los Angeles. PrintFest is an immersive experience, designed to inspire and educate the creative community on digital print technology and its many applications for packaging and display.
To demonstrate the power of the D4D software the YARZA Twins created a concept campaign for the launch that Smirnoff kindly lent its brand too, "Everything the same. Every one different". Inspired by the iconic Smirnoff 21 branding, The YARZA twins designed 21 characters, 21 hats and 21 bodies that they then mixed and matched using HP's software to create a virtually endless number of unique designs.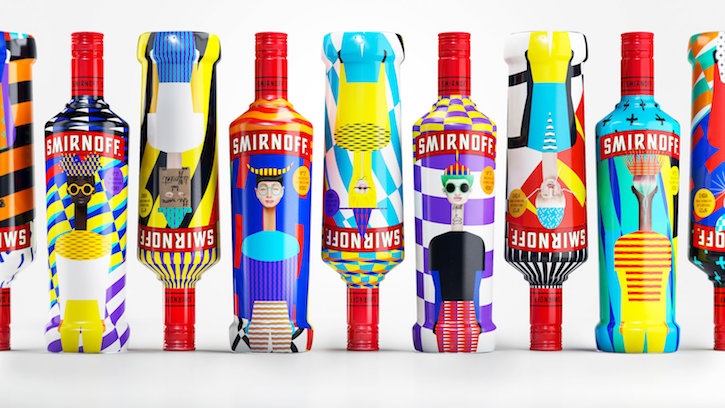 The digitally printed corrugated displays produced by The BoxMaker will feature enlarged versions of these unique illustrations, with different combinations of the characters, hats, and bodies demonstrating the Smirnoff campaign creative. The corrugated pieces will be displayed throughout PrintFest alongside other examples of HP Indigo digital print on various substrates to create a captivating display for conference attendees.
"HP Scitex digital print enables companies of all sizes to leverage packaging and display to connect with their customers and enhance their brand in ways that are simply not feasible with analog print. We are delighted to have the opportunity to share the benefits of digital print with the creative community at Adobe MAX," says Richard Brown, President of The BoxMaker.
What's Next for The BoxMaker?
The BoxMaker is a leading provider of digitally printed corrugated boxes, retail displays, and custom labels in the Pacific Northwest. The company currently operates the region's highest-capacity Digital Production Center, which features two HP Scitex wide-format corrugated presses, an HP narrow-web digital press for labels and folding cartons, as well as digital finishing with a small fleet of fully automated CAD cutting tables. The BoxMaker is expanding production capacity with the addition of an HP PageWide C500 Press, bringing the first ground-breaking post-print digital corrugated press to the West Coast. The press will begin full production in 2019.
As an all-in-one packaging partner, The BoxMaker strives to provide custom solutions that amplify their clients' people, processes, and brand. Digital print not only empowers brands to create total alignment between their marketing efforts and retail packaging and display, but also enhances their supply chain management and reduces waste. The company is currently focused on scaling their digital production offerings and capacity to meet these growing needs.
To stay updated on the latest The BoxMaker news, be sure to follow us on Facebook, Instagram, and LinkedIn.