Folding Carton vs. Corrugated - What's the Difference?
Both folding carton and corrugated (which you may refer to as "cardboard") are widely used in the packaging world, and you see them every day in the retail aisle. But what's the difference, and when should you choose one over the other?
Folding Carton: A Retail Staple
Folding carton is made out of paperboard that is printed, laminated, cut, folded and glued. From colorful cereal boxes to high-end cosmetics packaging, this is the type of material that many of us think of first when we think of shopping for products in a store.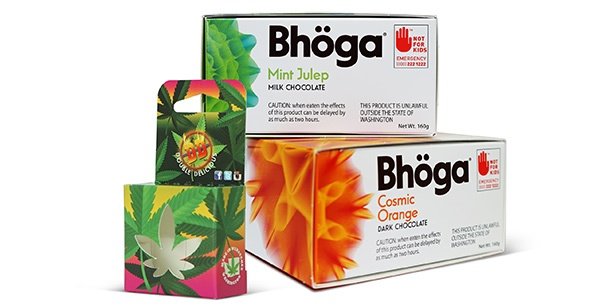 Visually, folding carton is single-layered and often feels like thick cardstock. It is typically printed in full color and plays a key role in product branding and promotion.
Folding carton is frequently used as the primary packaging for a product - meaning it holds your product directly. This type of material is not suitable to ship without an additional corrugated box to protect the carton in transit.
Folding Carton Benefits
Folding cartons typically have a smaller footprint than other, bulkier packaging options. The material is thinner and lighter weight and therefore takes up less room in storage. Folding cartons also offer an array of embellishments that can be achieved during the manufacturing process, including foil stamping, embossing, texture, and more.
Corrugated Packaging: A Retail Contender
Corrugated is made from two outer linerboard sheets with a fluted sheet (the familiar squiggle) sandwiched between. It comes in many thicknesses and styles. Corrugated packaging offers structural support to products that are heavy or unevenly distributed within the box.
Many people think of brown shipping boxes with single or 2-color flexographic print when they think of corrugated packaging. However, corrugated can be a full-color promoter of your brand in the retail aisle, while offering added protection to your product that other materials simply can't match.
Some brands are concerned that corrugated won't look as polished as folding carton. In many cases, this belief is a myth. With today's digital print and finishing capabilities, a corrugated pack can truly stand up to the competition in the retail aisle and capture some huge speed-to-market benefits.
Corrugated Packaging Benefits
Because of its rigid nature, corrugated packaging offers more options than folding carton when it comes to closures, including locking tabs, VELCRO®, and magnets. This is great for packaging that is meant to be reused over time or opened and closed many times. Corrugated packaging also supports the inclusion of handles and inserts (both corrugated and foam) with ease.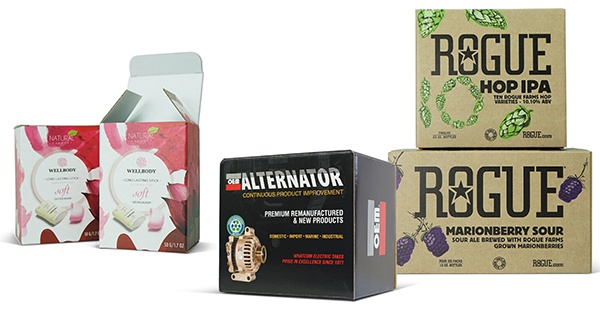 Choosing Between Folding Carton and Corrugated for Retail Packaging
Ultimately, choosing between these two packaging materials comes down to the size, shape, and weight of your product, as well as your desired packaging volume and timeline. For products with significant heft or multi-unit combinations (such as gift packs) that need to take weight distribution into consideration, corrugated is most likely the way to go. Also consider how your product will be shipped and if the primary packaging plays a key role in protection during transit. For fragile goods, corrugated again comes out on top. Finally, how quickly do you need your boxes and what volume are your ordering? Folding cartons often come with high minimum orders if they are not being printed digitally. To achieve cost-effective short runs without sacrificing color, digitally printed corrugated boxes are high-impact and deliver unbeatable speed-to-market.
Whatever you choose, work with a packaging partner who will take the time to understand your full product lifecycle and the role that packaging will play in the protection and promotion of each SKU.
Retail Strategies, Packaging Solutions, Packaging Manufacturing