A Brief History of U.S. Food Packaging Regulation
Up until the 20th century, there were few federal laws regulating the food packaging industry in the United States. Standards and guidelines slowly developed over time in response to growing health concerns and public outcry for safe production and manufacturing practices.
Formal federal regulation began with the 1906 Pure Food & Drug Act, enacted to protect consumers against adulteration of food and from products identified as healthful without scientific support. Following came the Federal Food, Drug, and Cosmetic Act in 1938, giving authority to the U.S Food & Drug Administration (FDA) to oversee the safety of food, drugs, and cosmetics.
Tasked with the important job of regulating packaging and labeling — the FDA sets strict standards for food packaging to protect and enhance consumer safety and confidence. Along with food labeling requirements such as nutrition information, expiration dates, handling and preparation instructions, the FDA also regulates any packaging elements that come into direct contact with food.
Digital Print: Is it Food-Safe?
Digital print is a direct printing process where ink is applied straight onto the substrate — no print plates required. By providing the advantage of full color graphics, variable data, and quick turnaround times, digital print allows brands to better align their food packaging with seasonal or limited-edition marketing and promotional efforts.
Because ink is applied directly to the substrate, printing digitally requires that the inks be cured or dried in some way so that packaging products do not come off the press wet, which would lead to smudging, streaking, and potentially a ruined print job.
It's important to note that due to this need to cure the ink, not all digital print technologies are food-safe for primary packaging applications (where the packaging has direct contact with food). This is because digital print typically uses UV-cured inks that are not deemed safe for consumption. If these inks aren't fully cured during the production process, they can migrate into the corrugated fiberboard or other packaging materials and potentially contaminate the food product within. Ink migration can lead to serious public health and safety concerns and put both consumers and brands at risk.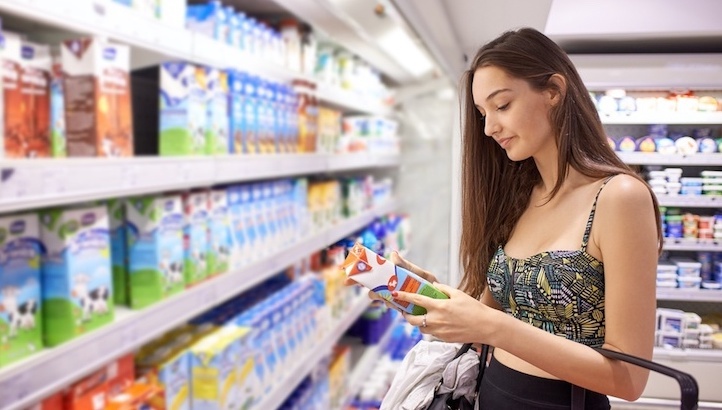 What does this mean for brands? The benefits of digital print, which can make a big difference winning over consumers in a crowded marketplace, cannot be executed on primary packaging applications – until now.
Enter: food-safe inks.
Food-safe inks are water-based, nontoxic, and completely free of UV-reactive chemistries. Along with being safe in the event of consumer consumption, food-safe inks open up new possibilities for package design by increasing the available "real estate" for printing. In packaging areas where UV ink migration was formerly a concern and were therefore left blank, food-safe inks can now go. Food-safe inks also reduce the environmental impact of food packaging production, since no additional material, film, or barrier is required to prevent ink contamination.
Breaking New Ground with the HP PageWide C500 Press
Powered by digital print, food-safe inks enable brands to create high-quality, effective packaging while remaining safe for consumers and compliant with regulations. This is why The BoxMaker recently invested in the HP PageWide C500 Press. The specially formulated food-safe ink used in the C500 Press complies with even the most stringent global food safety regulations and industry guidelines, including the FDA, EU Framework, Nestlé Guidance, Swiss Ordinance, and more.
Available for production orders in early 2019, the HP PageWide C500 Press will enable The BoxMaker to print food-safe packaging, expand service within the agriculture and specialty food and beverage industries, and will play a key role in our continued commitment to deliver the latest digital print solutions to our clients.
Learn More About Digital Print and Food-Safe Inks
To learn more about digital print applications and food-safe inks, we invite you to register for BoxMaker University. This is the perfect opportunity for individuals or teams to gain in-depth knowledge on how to leverage food-safe inks for packaging. We offer classes throughout the Pacific Northwest. For a full list of upcoming sessions, visit our website.
Digital Print and Production, Packaging and Print Technology