What is the "Crossover Point?"
There are two main categories of print methods used to produce corrugated packaging and displays: conventional analog print methods and digital print methods. Analog print methods include flexography and litho lamination and have dominated the packaging industry for decades. However, digital print has quickly proven itself as a worthy challenger.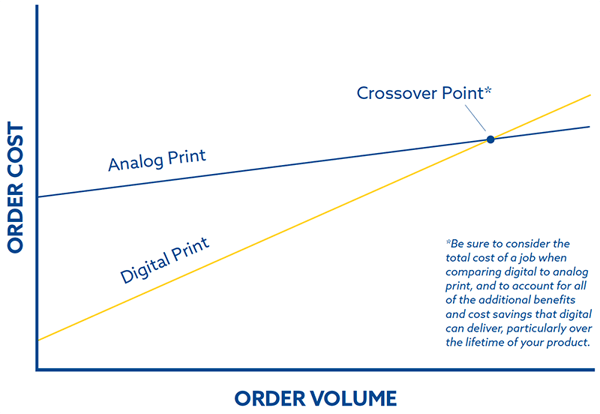 When comparing print methods, the "crossover point" refers to the point at which one print method becomes more cost-effective than another in terms of order volume. Traditionally, analog print is the preferred option for high-volume order runs at scale while digital reigned supreme for short-run orders that require a quick turnaround. But as digital print technologies improve with each passing year, the crossover point at which analog print becomes more cost-effective than digital print is being pushed further and further out.
To better understand why this is occurring, it's essential to understand the factors that drive the cost of analog print and digital print methods.
The True Cost of Analog Print
Brands often make the mistake of determining their packaging print method based solely on price per unit. While the price per unit is important, be sure to consider the total cost of a job, particularly over the lifetime of the product. Analog print methods typically offer a more attractive price per unit compared to digital but keep in mind that its true cost may be hidden.
Brands must commit to high minimum order volumes to offset the significant initiation and production costs of analog, including tooling (print plates and cutting dies) and machine setup time. A low price per unit is only achieved when these costs are distributed over a very high volume.
Large order volumes correspond to high inventory levels, so brands must also factor in the cost of warehousing and inventory management into the total cost of the job. Given the nature of shortened product lifecycles, having surplus inventory can be detrimental to a brand's bottom-line.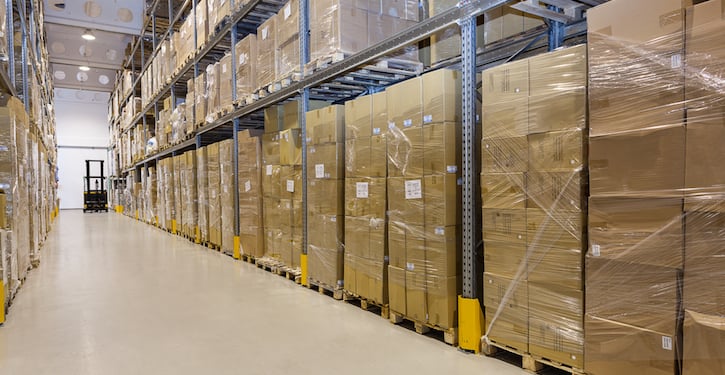 For brands with a commitment to sustainability, material waste is an environmental cost that is often overlooked with analog print methods. For example, litho lam might need to run hundreds of sheets of corrugated material through the press and laminator before the machines are correctly calibrated and ready to run your packaging order accurately. Additionally, the environmental impact of producing print plates and disposing of obsolete or outdated print plates must be considered as well.
Digital Print: Closing the Gap
Advancements in technology, software, and supply chain workflows are closing the gap between digital and analog when it comes to printed packaging. Without the need for print plates, digital print dramatically reduces the initiation and set up costs that are associated with analog print methods. While the up-front price per unit may be higher when compared side-by-side with analog, the benefits of digital quickly outweigh this cost.
The print-on-demand nature of digital enables brands to order in exact quantities and on a more frequent basis, thus minimizing warehousing costs and reducing the risk of surplus inventory.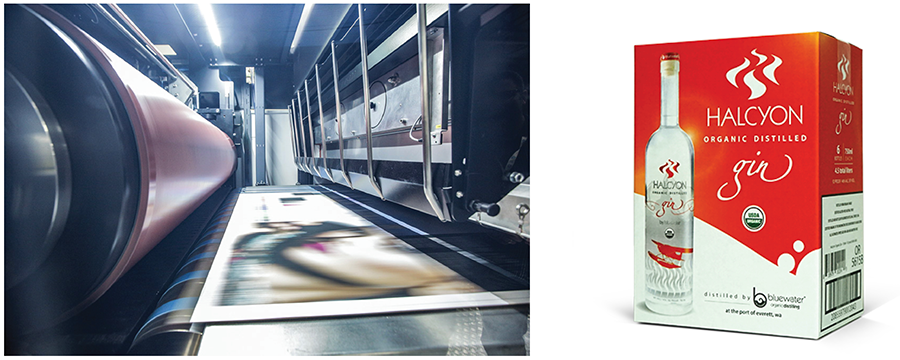 In its infancy, digital print was only viable for rapid prototyping or low volume orders. Today's digital presses have since evolved and can effectively produce packaging quantities of 1 to hundreds of thousands — volume demands that were once only associated with analog print methods. Today's top digital presses, such as the HP PageWide C500, process large order volumes that are comparable to the speed, quality, and cost of high-end flexo and litho lamination. But it isn't just about print.
Digital CAD tables and emerging laser technologies deliver an automated die-less finishing system — allowing brands to bypass the need to purchase cutting dies, thus delivering further cost savings. The latest digital finishing equipment contributes to low minimum order quantities and increases supply chain efficiencies, further closing the gap between digital and analog print methods.
Consult with an Experienced Pacific Northwest Packaging Advisor
The crossover point at which analog print methods are more cost-effective than digital print is rapidly changing. With its across-the-board benefits for the brand, supply chain, and the end consumer, the future of the packaging industry is digital, and now is the time for brands to embrace the transition if they haven't already done so.
To learn more about how digital print can support your brand, schedule a consultation with a dedicated Packaging Advisor. We can help you comprehensively plan your next digitally printed packaging project to produce results and benefit your bottom line.