Here at The BoxMaker, we care about boxes (surprising, I know), and we put a lot of effort into creating the most perfect box possible. Yet a box is only a box if it holds up. There are several elements that go into making the perfect box, and a proper glue joint is one of them. This aspect of box making is one of the more challenging ones due to the fact that we run nearly 300 boxes every minute, and the properties of glue itself can be inconsistent. In order to ensure the quality of our glue joints, The BoxMaker counts on the GlueCheck system from Valco-Melton. Here's how it works:
During the set-up for each item, the production team will produce and inspect 1 or more samples.
Within this set-up process, the glue joint is dialed in and the standard is established within GlueCheck.
A high-speed camera system begins photographing each box during the run and comparing the joint to the standard. Every photo is displayed (see picture below) and retained for reference.
In the event of variation from the standard, there is an audible alert and the individual box is marked with indicator ink allowing for easy removal at the time of bundling.
Thanks to technologies such as GlueCheck we can save time, eliminate waste, and give our clients peace of mind. Our most recent defect rates for boxes shipped to clients is less than 0.1% and it is the combination of the right people, equipment and practices that lead to such outstanding quality.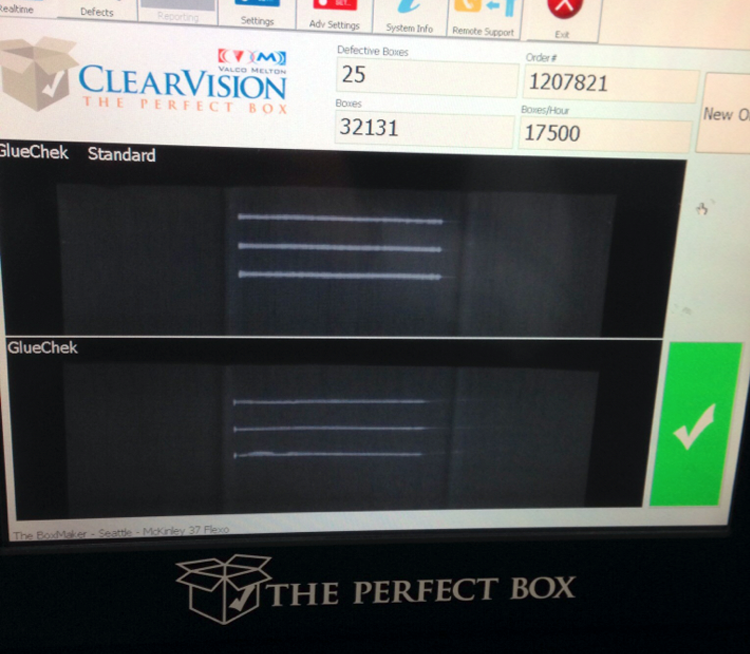 Call us today to find out how we can make the perfect box for you!