You probably already know that beer labels help to capture consumer attention and drive purchase intent at the shelf. What you might not know is that the on-shelf differentiation doesn't have to end there.
While most brands choose to design and apply an identical label to each individual beer can, some brands are further differentiating their product by pushing beyond the conventional and taking advantage of the latest custom label printing technologies available today. Variable Data Printing is one such technology.
What is Variable Data Printing?
Variable Data Printing (VDP) is a print method that enables brands to create one-of-a-kind labels within a single print run. It operates by accessing a library of image or text assets and inserting those assets into designated areas of the label design file, resulting in a different print on every label and creating a unique but cohesive print series.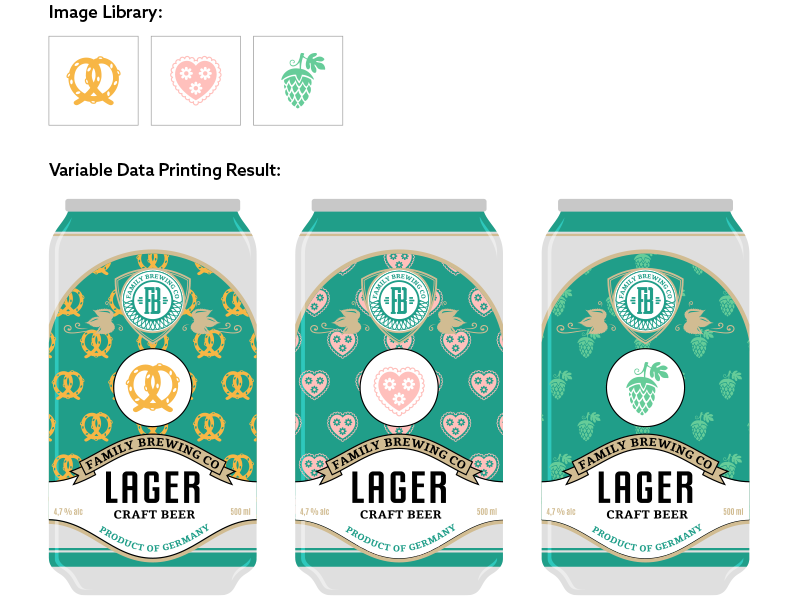 VDP makes practical print production tasks such as barcode management a breeze by eliminating the manual work of switching out the image file for each new SKU being printed.
What can you create with Variable Data Printing?
More exciting than barcodes, brands are using Variable Data Printing to achieve unique creative results and develop labels that are individually as unique as the consumer purchasing the product. VDP is the technology behind popular marketing campaigns including Coca-Cola's infamous Share a Coke campaign.
By leveraging VDP, brands are creating a one-to-one connection between the consumer and their product. These connections are powerful and boost the emotional attachment that a consumer feels for a product or brand, increasing loyalty in the process.
Two Beers Brewing Gets Personal with Variable Data Printing
Two Beers Brewing, located in Seattle, WA, wanted to do something completely different with their 16oz. can beer labels for the limited release of their latest brew.
"Drinking Boots" is a collaboration brew from Two Beers Brewing supporting Pink Boots Society, an organization that provides education and community to women professionals in the fermented and alcoholic beverage industry. In order to celebrate the women of the Pink Boots Society and the Two Beers Brewing family, the brand wanted to design a label around the concept of individuality.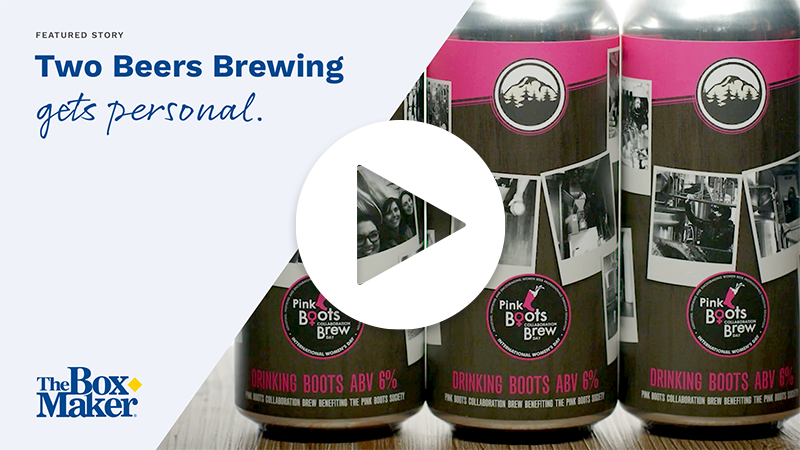 Partnering with The BoxMaker and using HP digital print technology, Two Beers Brewing designed a set of labels featuring Variable Data Printing. Each label design included several Polaroid-style frames which were dynamically filled with images of women from an asset library compiled by the Two Beers team.
Every label for this print run features a unique mix of images sourced from Pink Boots Society members and Two Beers Brewing staff. Each can is different, creating an eye-catching visual effect and a keepsake final product.
Variable Data Printing is Available for Every Brand
Thanks to the power of digital print, getting started with Variable Data Printing is easy. Leveraging this technology for your next custom label project just takes a creative idea and a little up-front planning.
Ensuring you are partnered with a print provider who can guide you through the process is also paramount to your success. We invite you to reach out to The BoxMaker if you have specific questions about this exciting technology that we can help address.