Here in the Pacific Northwest, we not only love to drink beer, but we also love making it. Washington and Oregon are home to two of the largest communities of craft brewers in the country, and their growth won't be slowing anytime soon. As craft brewers scale their business, the right packaging partner can provide support in key areas to maximize their investment.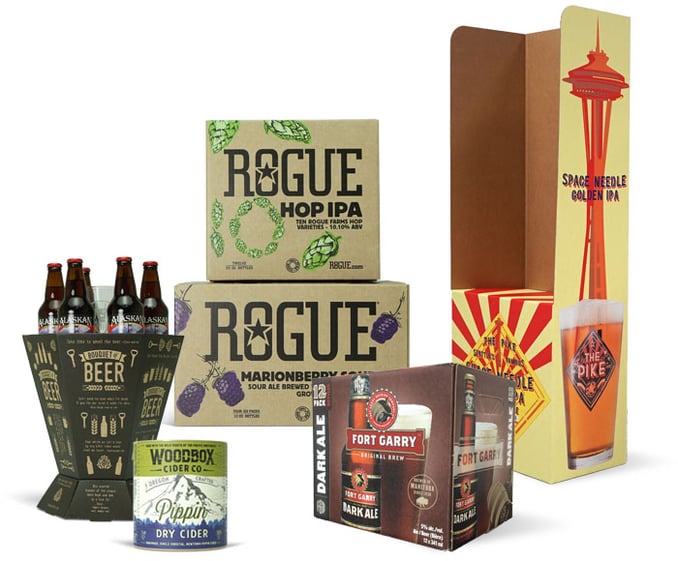 Getting Noticed in the Retail Aisle
Consumers choosing between similar products often base their final choice on packaging. Yes, you have to deliver a great tasting product to get them to come back time and time again, but great packaging will attract new consumers and influence them toward trying your beverage for the first time. Because of the boom the craft beer and cider industry is experiencing, competition in the adult beverage aisle has never been greater.
Leveraging technology such as digital print production helps craft beer and cider packaging stand out on the shelf, and delivers the short-run volume and speed-to-market benefits growing breweries need. Digital print is available for corrugated packaging and display as well as labels, giving it the potential to impact a number of products in your packaging supply chain. Because digital production requires no printing plates, setup costs are reduced compared to traditional flexo print methods. Additionally, digital print delivers the full CMYK color spectrum - so packaging dollars deliver more value to your brand and shelf presence.
Because printing dies are not required to apply artwork to the printed package or label, growing brands can alter and update their artwork with ease. Many iterations in low-volume quantities can be achieved for a reasonable investment that would be cost-prohibitive using traditional methods.
Crafting a Personalized Experience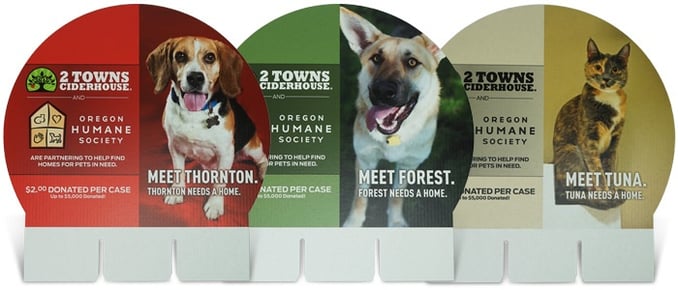 Variable print display headers for 2 Towns Cider
Today's consumers are demanding more personalized messaging from brands, and digital print levels the marketing playing field for breweries of all sizes. Digital print production allows for this growing industry to experiment with packaging in many ways to see what works best for each brand. This print method also allows for great flexibility in design and information iteration. Brands can change up their messaging and create a unique experience, allowing craft breweries to have more fun with their brands and set themselves apart. With variable data printing, every single label can be different. Short-run marketing campaigns can now be integrated into the packaging and display strategies of craft brewery businesses.
What About Quality?
The advancements made in digital print technology in recent years are phenomenal. When comparing a full-color digitally printed shipper box or beer tray to a traditional 1-to-3 color flexo "equivalent," the difference is clear. Digital delivers excellent registration, color callibration, and quality.
Reducing Waste and Controlling Cost
Because digital allows craft brewers to order in exact volume quantities, obsolete inventory is a thing of the past. Brands can order what they want, when they want, and at the volumes they desire. This has additional implications for saving on warehousing costs and reducing waste.
The Time to Start is Now
Wise craft brewers in the Pacific Northwest are already taking advantage of the benefits that digital print production can deliver to their business. The BoxMaker offers a suite of products to create a cohesive brand experience for any brewery. From labels to trays, to shipping boxes and in-store retail displays – our team of packaging experts can help you connect with your consumer through packaging.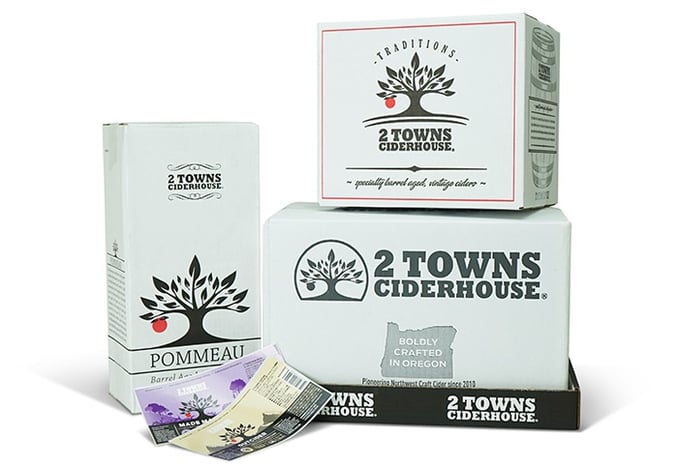 Check out our gallery of beer, wine & spirits work here.
Contact us today to brainstorm how to connect an audience of enthusiastic beer and cider drinkers with your packaging.
Digital Print and Production, Packaging and Print Technology, Craft Brewing, Packaging Solutions