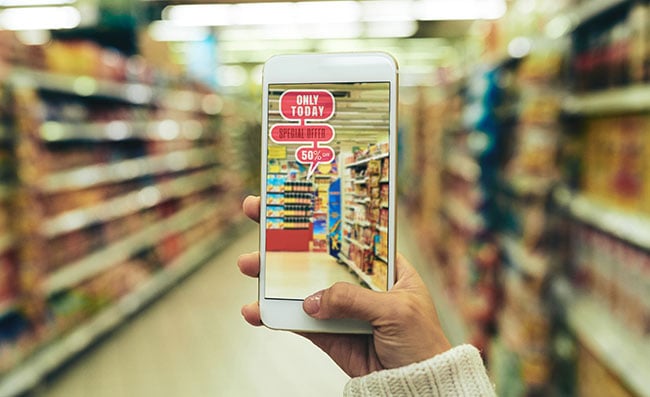 With a click, swipe, or double-tap, today's consumers have a seemingly limitless wealth of knowledge at their fingertips. In fact, research shows that 60 percent of people use their phone while shopping to compare products and prices. As a result, packaging must adapt to meet this increasing demand for detailed information.
Brands too have a need for more information than ever before. In a highly connected world, companies expect to be able to collect and leverage data from sources throughout their business – including packaging.
But with a finite amount of space available on the printed carton, box, or label – where can this additional information exist? Enter: Connected packaging.
Connected Packaging – What Is It?
Connected packaging (also called smart packaging) is capable of direct communication with a smart device. Several technologies are being leveraged in this growing segment, such as Quick Response (QR) codes or Near Field Communication (NFC) tags. Some of these technologies are visible or perceptible on the packaging, while others are imperceptible to the human eye.
Although the concept isn't entirely new (QR codes have existed since 1994), the technologies that power connected packaging today are rapidly advancing and becoming more widely adapted in a variety of applications.
To stay competitive in the marketplace, it's important for brands to understand how they can integrate these technologies into their packaging solutions to delight consumers when it matters most – at the moment of truth that drives a purchase.
How Brands are Getting Smart
Connected packaging provides a variety of opportunities for brands to meet the needs of their consumers — and ultimately drive sales.
Product Transparency & Differentiation
Today's consumers base their purchasing decisions on more than price, taste, and convenience. People want to know where their products come from, what they are made of, and even the environmental impact of the manufacturing process. According to a study by the Grocery Manufacturers Association, 51 percent of Americans weigh "evolving factors" in their purchasing decision, such as health and wellness and safety.
Connected packaging satisfies consumers' growing appetite for product transparency by offering a convenient, one-stop information portal. Brands can extend the amount of information available to the consumer beyond what's printed on the label by using digital watermark technologies that integrate directly into existing packaging artwork. The watermark can link to a dedicated app or website for additional information such as ingredients, allergens, expiration dates, how-to instructions, and more.
Along with product information, brands have the opportunity to share promotional discounts, customer reviews, and fun extras through connected packaging. In 2011, Heinz launched a marketing campaign to promote ketchup as a cooking ingredient. By simply scanning the label of a ketchup bottle with the Blippar app, shoppers could access a secret cookbook with downloadable recipes. Heinz also offered giveaway prizes through the app, adding further value to consumers.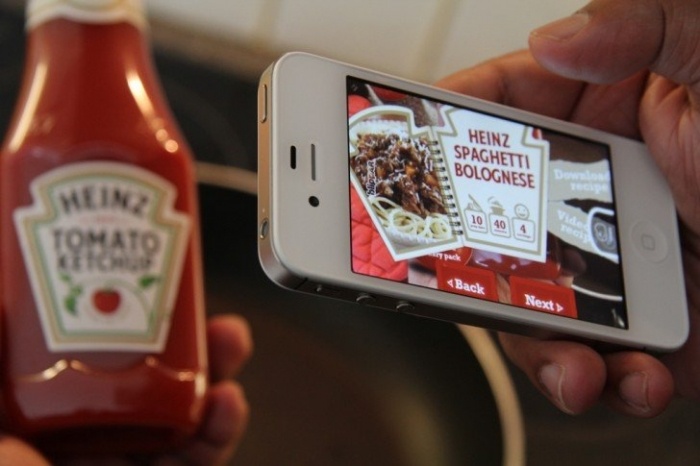 Enhancing the Brand Experience
Brand experiences that go beyond the printed pack create marketing buzz and add promotional value, which is beneficial when introducing a new product to consumers or for short-run marketing campaigns. This not only helps brands stay top-of-mind, it can drive awareness through social sharing and organic word-of-mouth.
Connected packaging can deliver accurate and real-time performance tracking to marketing campaigns. Cloud-based software platforms allow brands to collect valuable consumer data and key insights through packaging-driven interactions.
One way to utilize connected packaging to enhance the brand experience is by tapping into augmented reality (AR). AR-enabled packaging incorporates computer-generated elements to the real world, allowing brands to deliver a unique, interactive experience. In anticipation of the 2014 FIFA World Cup in Brazil, McDonalds released special AR-enabled packaging for their iconic french fry boxes. By holding a smartphone to the box, consumers could load an AR soccer game app called 'McDonald's GOL!' and transform their box into a net on the mobile screen that they could then could "kick" balls into.
Brand Security
Connected packaging is more than just a marketing tool. Track-and-trace technology can help increase efficiencies in the supply chain to reduce cost, discourage theft, and ensure the security of the product. Track-and-trace can also play a role in quality control and recall management. These technologies help narrow the scope of a recall by identifying and locating specific shipments or empowering consumers to check their own products at home with a simple scan of their smartphone.
Connected packaging can also help consumers determine brand authenticity. Digital watermarks can be scanned by retail locations or consumers for added assurance that a product is indeed authentic. This is particularly useful for industries where counterfeits are common, such as fashion and cosmetics.
In 2015, French cognac brand Rémy Martin debuted its CLUB Connected Bottle — the first ever connected bottle. An accompanying smartphone application, Centaur Connect, allowed for immediate interaction with the bottle. Through tamperproof NFC technology, the Connected Bottle could detect and report if it had been previously opened, thus guaranteeing that the cognac within was genuine.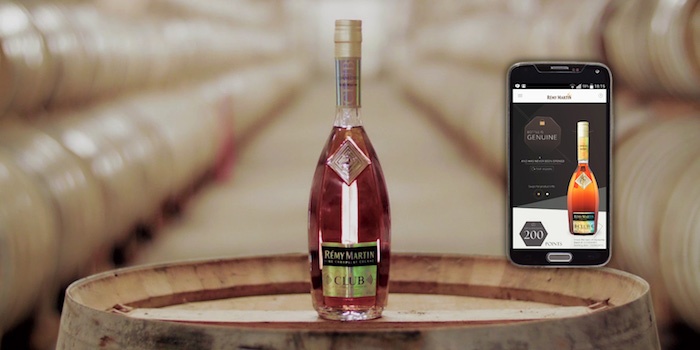 Connected Packaging: Powered by Digital Print
How are brands able to launch these innovative campaigns that merge the physical pack with a digital experience? What has changed?
The production powerhouse that makes these immersive experiences possible is digital print. This technology allows for complete control over unit volume, frequency, and relevancy. What does this mean? In short, print what you want, when you want, and how you want. You can review what makes digital different here.
Digital print is available for a wide variety of substrates, including wide-format corrugated, labels, and folding carton. Digital watermarking is made possible by pairing the production method with software solutions from HP and others in the marketplace.
Raise Your Packaging's I.Q.: Start Today
By leveraging modern digital technology, packaging is bridging the gap between the physical product and digital data. Connected packaging allows brands to extend the conversation with consumers beyond the limited space of a physical pack. Brands that incorporate elements of intelligence in their product packaging give consumers the information and experiences they demand –– while delivering a deeper and richer customer experience.
Brands that invest in anticipating and meeting the needs of their consumers through packaging can expect to grow brand loyalty and enjoy sales success in the marketplace. As a leading provider of digitally printed and finished packaging, The BoxMaker is happy to help you explore the limitless possibilities that connected packaging delivers.
Our Pacific Northwest team is ready to help you leverage the latest digital printing technologies to deliver an optimized and exceptional customer experience through packaging. Get started today!