It's safe to say that digital print has revolutionized the packaging industry. No longer just an up-and-coming trend, digital print production has proved itself a worthy challenger to traditional litho lamination and flexography printing. Digital delivers high-quality, full color print, quick turnaround times, benefits to the supply chain including waste reduction, rapid response times, and the ability to produce packaging that can respond quickly as your marketing demands change.
With all the talk about digital these days, misinformation and confusion are inevitable as more and more brands are introduced to digital print production for packaging and display.
But fear not — we're here to clear the air and take it back to the basics. Here are the 6 most commonly asked questions we receive about digital print:
Question #1: What is Digital Printing, and How Does it Work?
Digital printing for corrugated boxes, display, labels, and folding cartons operates similarly to a home or office printer — just in a larger format. The artwork file is electronically transferred from a computer to the press, and then printed onto the desired substrate. Digital presses transfer four colors of ink (Cyan, Magenta, Yellow, and Black) simultaneously, producing full-color prints with ease.
The key difference between digital print in comparison to offset and flexo printing is that it doesn't require the use of print plates — saving both time and money. By taking advantage of modern technology, digital print bypasses the need for the extra tooling and labor that is typically required with analog print methods.
Question #2: What are the Benefits of Digital Print?
Digital print offers a variety of advantages for brands over other traditional print methods, including:
Short-Run Printing Capabilities: Digital print is a great solution for low-volume short runs, such as prototyping, limited editions, and short-term marketing campaigns.
Speed-to-Market: Time is money, and competition in the retail and eCommerce marketplace has never been more fierce. Digital print skips the wait time needed in analog print for custom print plates to be manufactured, and the number of manual pre-press procedures is greatly reduced. The result? A faster timeline to begin production on your project.
True Packaging Customization: With the ability to utilize variable data, brands can tailor their packaging experience based on unique audiences. The flexibility of digital printing allows brands to customize print units with minimal effort. Every print can be completely unique in a single run.
Brand Security & Experience: The latest digital print technologies, such as trace-and-trace integration can help increase efficiencies in the supply chain to reduce cost, discourage theft, and ensure the security of the product. Connected packaging, powered by digital print, enhances the customer experience by delivering an immersive and extended experience beyond the physical pack.
Environmental Impact: With digital, you can print what you want, when you want, how you want. This means exact volume orders can be produced on demand – no more high volume minimum orders, overruns, or having to toss unused inventory. By responsively adjusting your packaging supply chain as demand changes over time, a significant amount of waste can be eliminated from the process and the landfill.
As digital print evolves, new ink technologies are also being delivered that are safe for a wide variety of corrugated packaging, including food applications.
Question #3: What is the Minimum Volume Order for Digital Print?
In its infancy, digital print for packaging and display was truly only viable for prototyping and very low volume orders. Today, digital technology has evolved and can process order volumes from 1 to tens or even hundreds of thousands. Every print that comes off the press for your order will be identical from the first to the last, eliminating much of the setup and calibration needed with analog methods. From a quick proof of concept to a personalized campaign that reaches millions, digital print can deliver solutions for orders of all volumes.

It is important to note that policies for minimum order volumes are different with every supplier.
Question #4: Can a Digital Press Produce an Exact Ink Color?
HP digital presses can match up to 97% of the Pantone color spectrum. Although CMYK printing produces high quality results, there's a chance of color variation across different printers or jobs.
If you are concerned about producing a specific shade for your packaging and having that result be consistent across multiple presses or print runs, be sure to work with a packaging provider that is G7 Certified, such as The BoxMaker. Printers who have passed the G7 qualification program from Idealliance have been trained to print G7 Neutral Print Density Curves. This means our presses have been calibrated to consistently achieve color outputs that meet the G7 industry standard for color quality.
Question #5: What Types of Inks and Finishes Can You Use with Digital?
When it comes to digitally printed labels, there's a wide range of specialty inks available. HP recently released a series of fluorescent inks for their Indigo press line, and announced the release of ElectroInk Silver in 2018 (which can be used to achieve a full color spectrum of metallic effects). Many label stock suppliers have released digital-specific product lines and continue to add new and unique substrate options for labels, including felt, velvet, wood veneer, and many more.
For wide format corrugated packaging and display, the latest digital print technologies go above and beyond by utilizing water-based food-safe inks that are safe for human consumption. The specially formulated food-safe ink used by the HP PageWide C500 Press complies with even the most stringent global food safety regulations and industry guidelines, opening up a new realm of possibilities for the agriculture and specialty food and beverage industries when it comes to packaging.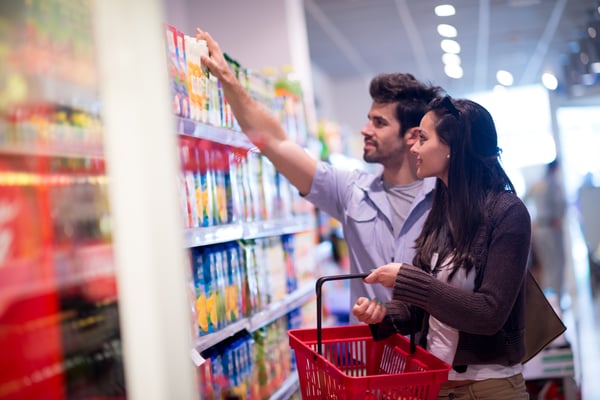 Ultimately, what digital print can do for you depends on your packaging provider. This is why it's important to partner with a provider who is committed to innovation and remaining on the forefront of technology.
Question #6: When Should I Choose Digital over Traditional Print Methods?
Choosing between digital print versus traditional print methods depends a variety of factors, including your business needs and packaging budget. The price per packaging or label can be very different depending on the volume of an order. With digital, the cost per item remains basically the same throughout the run. With litho lamination and flexo, most of the cost lies upfront in the machine setup time and print plate manufacturing.
As a result, the more you order the less expensive each unit becomes as that cost is distributed over a higher and higher volume. Thus, for very high-volume orders (tens of thousands and more), traditional print methods may offer a better price.
However, if your project would benefit from the unique features that only digital can deliver, such as personalized messaging or imperceptible track-and-trace watermarking, digital is the best choice regardless of order volume.
Register for a BoxMaker University Class Near You
Now that you're up to speed on all things digital, it's time to take your packaging to the next level. The experienced Packaging Advisors at The BoxMaker are ready to help your brand leverage the power of digital print.
If you want to learn more about digital print, sign up for a BoxMaker University class and dive head-first into the world of packaging. BoxMaker University is great for individuals or teams to gain industry knowledge and drive their business forward through high-quality packaging solutions. We offer classes throughout the Pacific Northwest. For a full list of upcoming sessions, visit our website.