Cider on a Mission for Good
As Oregon's largest craft cider producer, the employees of 2 Towns Ciderhouse have great passion for their craft as well as their community. This passion is evidenced not only by the quality of their product, but also by their commitment to give back to local charities.
In alignment with the company's core values, 2 Towns Ciderhouse recently partnered with the Oregon Humane Society during the holiday season, donating a portion of sales towards the medical treatment of animals in need to ready them for adoption. The campaign ran during the month of December and committed $2 per case of cider (up to $5,000) to this worthy cause.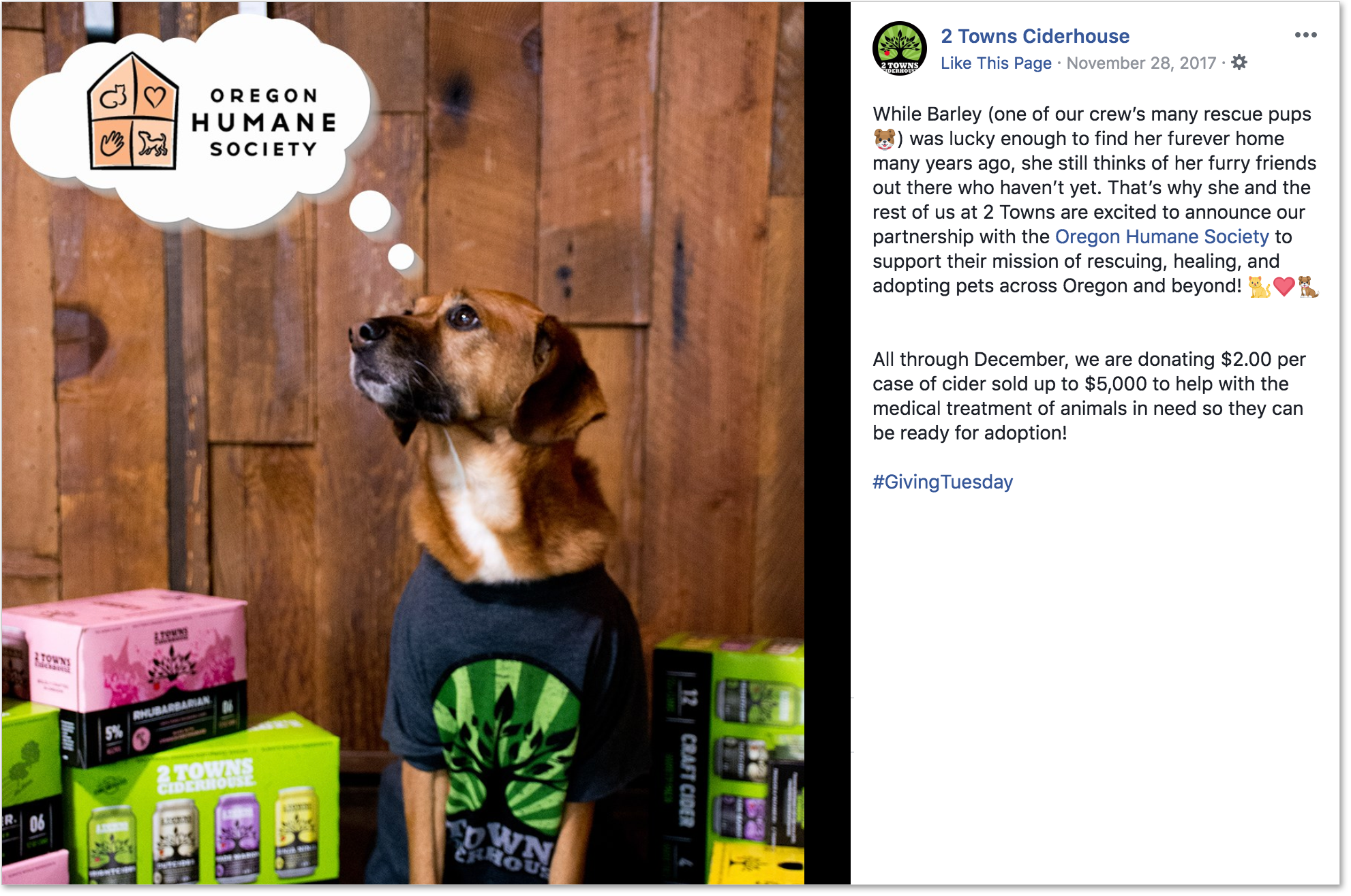 But how to spread the word? To promote cider sales and reach their goal, the beverage brand sought out a quick-turn retail display solution that would connect their online marketing efforts and in-store audiences at the point-of-purchase.
Bridging the Gap Between Online Marketing & Grocery Retail
While today's consumers have more access to information than ever before, 70% of buying decisions are still made at the shelf. Point-of-purchase (POP) displays can be a powerful tool to drive sales, increase brand awareness, and capture consumers' attention in a busy retail environment.
For companies participating in seasonal marketing or special-edition campaigns, retail displays are a cost-effective solution to promote such efforts without having to produce entirely new product packaging. Retail displays can close the marketing loop for the consumers — reinforcing on or offline advertising they've seen with the in-store product experience.
In the case of 2 Towns Ciderhouse, the company wanted to leverage images of animals in need to bring attention to this cause. Their marketing team developed a creative concept that used a variety of images of pets that would benefit from their donation to the humane society.
In order to execute this vision, the brand required multiple versions of a header card design to top their existing cider displays for the duration of the campaign. Each header card reinforced the campaign's message by including co-branding with Oregon Humane Society, the details of the donation drive, and an image of a pet waiting for adoption (which varied from display to display). However, with litho-lam lead times of several weeks and a high minimum order volume requirement, the retail displays could not be effectively executed as envisioned using traditional methods.
2 Towns Ciderhouse faced the challenge of finding a retail display solution that could be quickly produced in a limited-run volume to align with their already planned social media and canvasing efforts.
Enter: Digital print.
Tapping into the Power of Digital Print
Digital print is a direct printing process, meaning ink is applied directly onto the substrate. Because print plates are not required (unlike litho-lam), digital print skips the added wait time and cost of custom print plate manufacturing. Because of this, digital print offers quick-turn packaging and display solutions in limited run sizes, delivering speed-to-market value without sacrificing quality.
Luckily, 2 Towns Ciderhouse found The BoxMaker. By leveraging the latest digital print technologies, we were able to produce all three versions of the header card designs in 15 business days from concept to delivery.
Through this partnership, 2 Towns Ciderhouse successfully integrated their marketing efforts and point-of-purchase retail displays. The ciderhouse reached 100% of their fundraising goal, donated $5,000 to Oregon Humane Society, and credits this campaign as one of their most successful to-date.
Take Your Cider Packaging & Retail Displays to the Next Level
Arguably, it's difficult to implement an effective marketing campaign without cohesive product packaging or retail displays — and vice versa. That's why cider companies and craft breweries throughout the Pacific Northwest turn to The BoxMaker to take their custom packaging and displays to the next level.
With six locations throughout Washington and Oregon, our Packaging Advisors are here to help you tap into the power of digital printing to create cheers-worthy packaging that speaks to your target consumer. Don't hesitate to reach out to our team today to brainstorm a challenging execution.
About 2 Towns Ciderhouse
Established in 2010, 2 Towns Ciderhouse is a family-owned craft cider company based in Corvallis, Oregon. With deep roots in the Pacific Northwest, 2 Towns has grown into Oregon's largest craft cider producer with over 50 employees. The company has been voted one of Oregon Business Journal's Best Places to Work multiple years in a row.