Here at The BoxMaker, our team prides itself on innovation. Our award-winning structural design studio uses the latest industry-leading 3D modeling and CAD systems and specialized design software. With these tools under our belt, our capacity to meet the most demanding specifications and schedules makes us uniquely qualified to handle the growing needs of clients in any industry. We asked our sales leaders to reflect on their favorite BoxMaker projects from 2015 that best demonstrated our capabilities. This is what they have to share!
The Bouquet of Beer
Toni Lyerla, The BoxMaker's Vice President of Sales, and Bellingham Branch Manager Matt Krupka both loved the Bouquet of Beer.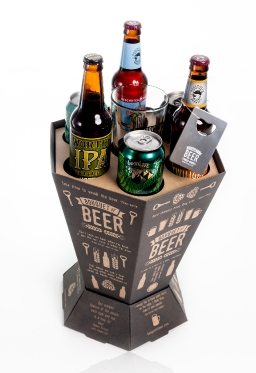 The Bouquet was a project for the emerging craft beer market in Bend, Oregon. Toni calls it "the brain child" of a couple local guys who thought a beer bouquet would be a great Father's Day gift, complementary to a bouquet of flowers on Mother's Day.
Our design team was initially concerned about the stability of a display that would need to secure up to seven beer bottles, all perched on top. The return on investment was also questionable considering the amount of time it could have taken to design and build the display. When Toni and her team met with the prospect, however, they still received a commitment. The BoxMaker team met the challenge, and the project was complete in time for Father's Day!
The Bouquet of Beer won first-place in the AICC competition, to boot. The project progressed from "maybe we shouldn't do this" to an award-winning display! Matt believes this project showcases The BoxMaker's unique strength in the market, and agrees that "award-winning" goes a long way when talking with clients.
The Gerber Tomahawk
Tina Rospond, our Portland Branch Manager, loved the innovation that our design team put forth to design new packaging for the Gerber Tomahawk.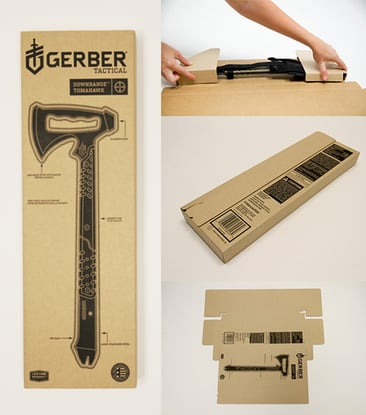 Prior to partnering with The BoxMaker, Gerber was using a cumbersome packaging design – each box took seven minutes to assemble! The BoxMaker team reduced that assembly time to 90 seconds with a one-piece design, and it even passed the drop test on the very first try. Thanks to our redesign, the client was able to greatly improve the overall profitability of the Tomahawk.
The AICC award-winning Gerber Tomahawk project was Tina's favorite because it demonstrated that the BoxMaker design team incorporates creativity, production efficiency, and product marketability into each project.
The KanBan Box for MidNite Solar
The BoxMaker's Seattle Sales Manager, Kristi Duvall, told us the KanBan Box was her favorite project from 2015.
From two of their suppliers, MidNite Solar had been receiving metal parts wrapped in paper and stacked on top of each other in bulky wooden crates. Needless to say, they were constantly being damaged and having to be sent back, creating major time loss for production.
The BoxMaker designed a box with partitions that MidNite Solar could give to their vendors for shipping, and since they've been in rotation, both MidNite Solar and their vendors have seen incredible process improvements and reduced time, space, and profit loss: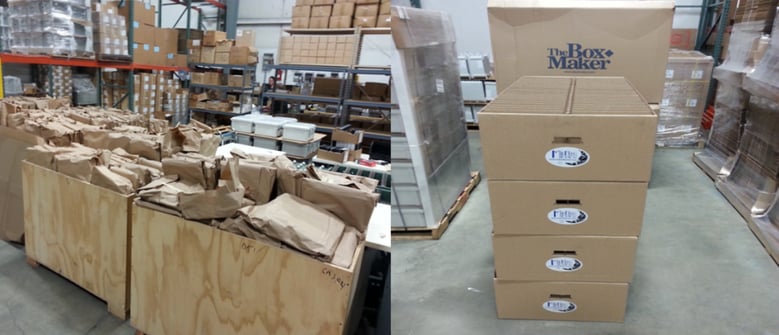 "It was the first of many process improvement projects I've done for this client," Kristi said. "It allowed me to help them understand the impact of process change, and they're now willing to overlook price to save labor, damage, time, etc. – big picture costs."
Zak Designs Star Wars Display
Laura Hard, The BoxMaker's Spokane Branch Manager, had the most fun in 2015 working with Zak Design on their Star Wars display header. Zak Designs takes on a ton of creative retail projects, especially when big movies hit the theaters. This year, leading up to the release of Star Wars Episode VII, this was a fantastic project of high volume for The BoxMaker. When our team first began work for Zak, the artwork had to be kept under wraps. This was no issue for our design team - they did a great job executing the finished project even with the added challenge.
Why is this Laura's favorite? "Zak Designs is a fabulous, creative client to work with. Every project is unique!"
As packaging continues to make its way to the forefront of the manufacturing conversation, The BoxMaker is working hard to introduce new designs and ideas every year that fuel creativity and help our clients' products stand out from the crowd. Our team works with each client to design displays and packaging that meet new industry challenges and showcase your brand's unique story and voice. Contact us today for a quote!

Lean Manufacturing and Processes, Structural Design, Retail Strategies, Packaging Solutions, The BoxMaker