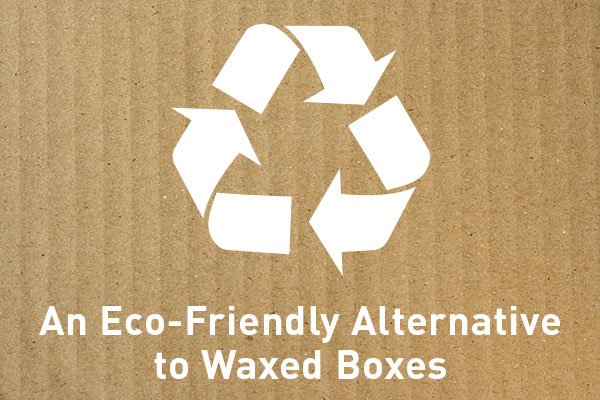 Corrugated boxes that are waxed (either coated, dipped, or impregnated liners) have traditionally been the go-to solution for hydro-cooling, top-icing, and high humidity storage. The process and product, however, is not an earth-friendly solution and the waxed boxes themselves are universally unwelcome for re-pulping.
Waxed boxes have been primarily used in the agriculture and seafood industries to transport perishable goods with the majority of the boxes ending up in grocery stores. While only about 5% of the national corrugated volume of corrugated boxes are waxed, that volume is still a substantial amount when considering our GDP as a nation.
An Eco-Friendly Alternative
KLP (kraft-lined poly) is a waxed-box alternative that is fairly new to the market. Various clients are embracing this product for a variety of uses. KLP corrugated is quickly gaining steam as the waxed-box alternative because it can be recycled curbside like every other corrugated box. With waxed boxes, grocers have to separate and have them hauled to landfill separately, which exceeds $100/ton – and even more on the two coasts, where disposal is growing more costly.
How it Works
A standard sheet of corrugated is made of three pieces of paper: the outside liner, the medium (or flutes) and the inside liner. KLP is an actual polymer sheet laminated to the outside or inside liner (or both) that keeps moisture from absorbing into the inside of the corrugated, therefore retaining the integrity of the box.
During the re-pulping process, the poly liner can be separated and thrown out of the mix, whereas wax coatings cannot. The KLP alternative is both eco-friendly and has a cost advantage when considering the fact that they don't get dumped in landfill.
Applications
There are several examples of applications where KLP is a great option, including:
Flower bouquet boxes
Nursery starters that are shipped and stored
Produce boxes
Seafood boxes that are used in short transit times
Various other products that need covering from the Northwest elements (think pallets of product sitting outside in the rain)
Are you currently using waxed boxes? Give us a call to learn more and see if KLP could work for you.
Shipping and Fulfillment, Sustainability, Protective & Interior Packaging, Packaging Solutions