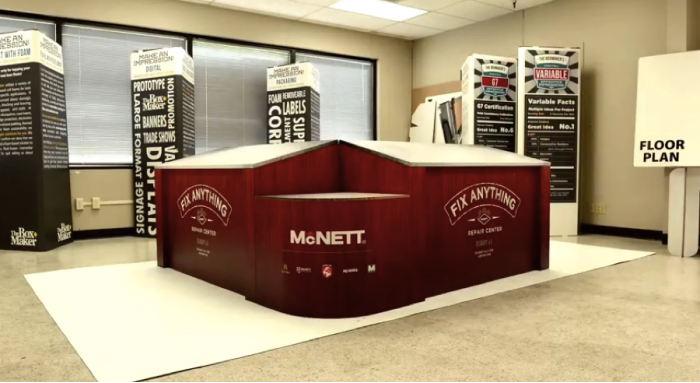 Compliment your product with an equally bold trade show booth. If there's one thing we're great at besides packaging, labeling, fulfilling, consulting, saving our clients money, saving our clients time, and Words With Friends – it's helping our customers turn heads at trade shows.
Standing out in a trade show environment is getting more and more challenging – and you can't rely on your dashing good looks forever. Sure, they've gotten you this far.
At The BoxMaker, we believe that the perfect complement to any product is a trade show booth that's as bold and creative as the product itself. The BoxMaker has a complete design and production department that can help you with everything from initial packaging designs to small-runs for product for specific events to (you guessed it) full-on trade show booth concepts that help generate interactions, leads, and results.
Why choose The BoxMaker to help you make a personalized impact at your next event? A traditional booth runs anywhere from 20 to 50 thousand dollars. The entry point for booths made out of recycled materials, however, starts at around five thousand dollars. With our digital printing capabilities, our clients can go direct to print, with the ability to switch up messaging for the best chance of your brand making an impression and interacting with attendees.
"A lot of times, people overlook corrugated for the ability to satisfy all of their unique solutions. However, at The BoxMaker we can create a wide array of applications using corrugated material, including tables, towers, displays, and even chairs and stools," explains Tonia Olson, Director of Digital at The BoxMaker. "Corrugated is also recyclable, which is a huge plus given that many trade show booths are used once and recycled, in favor of different messaging at the next event." Trade shows have become generic, but with corrugated, clients can keep things fresh or even tailor their messaging around specific events, making it an effective tool for storytelling and grabbing attention.
At The BoxMaker, we are able to do custom pack out and ship directly to your location. Chances are, a significant chunk of your marketing budget is spent representing your company at trade shows, so branding your booth and creating a memorable experience tailored to the specific event is sure to bring you a healthy return on investment.
Take a look at a unique trade show counter we completed for McNett! Have an upcoming event that could use a corrugated booth worthy of turning heads? Get in touch with us today!
Digital Print and Production, Structural Design, Sustainability, Packaging Solutions