Big news in the corrugated world!
A recent study commissioned by the Corrugated Packaging Alliance (CPA) reinforces corrugated as an environmentally smart choice for packaging. The study, which was a life cycle assessment (LCA) of the U.S. corrugated industry, shows promising improvements over the baseline LCA conducted in 2006.
For example, only 72% of the OCC (old corrugated containers) were recycled, but 85% of this material was recycled in 2010. Plus, the result show that 100% recycled materials isn't necessarily best for the environment because the industry needs a mix of virgin and recycled content to best succeed!
Other key findings are represented in an infographic put together by the CPA, check it out:
If you're unfamiliar with what a life cycle assessment is, here is some more info to help you out:
What is the life cycle of a corrugated product?
The CPA defines an LCA as a "standardized, scientific method for systematic analysis of flows (e.g., mass and energy) associated with the life cycle of a specific product, technology, service or manufacturing process system." It's typically broken down into four phases:
Pulp and papermaking operations
Converting
Use
End-of-life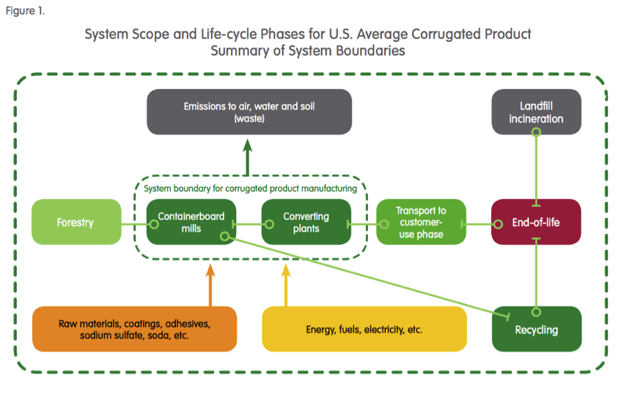 What was measured?
Global warming potential
Ozone depletion
Smog
Acidification
Eutrophication
Respiratory effects
Fossil fuel depletion
Why does it matter?
You don't make packaging decisions lightly, so you deserve to be informed about the latest information in the industry so you can make the best decision possible for you.
Director of the Corrugated Packaging Alliance wrote an article on the topic for BoxScore, saying "We want the world to know that corrugated is a great choice for the environment, and we're arming our member companies with the information they need to carry the message."
Tell us what you think! Does this study influence your opinion on corrugated? Give us a call, and let's talk about how corrugated can be put to use for you.