Ironically, one constant in our universe is change. Some people call it chaos, physicists call it entropy, and others call it disorienting. But Dave Hill, founder and co-owner with Dave Taylor, calls it opportunity. Since our conception 33 years ago, The BoxMaker has been dynamic – continuously embracing opportunities to innovate.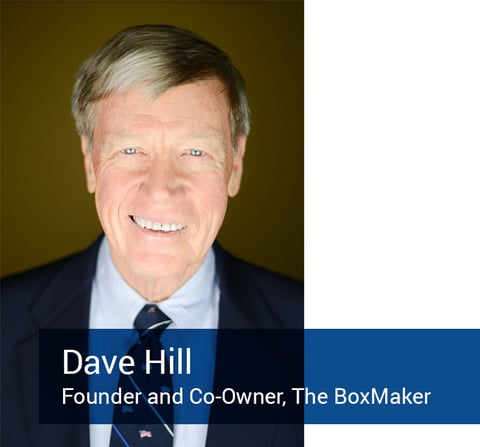 Over time, what began as a sheet plant in Seattle that manufactured and sold boxes became something far more: a company fabricating foam, digitally printing, and working in fulfillment. In fact, the ability to innovate is one of the primary reasons Dave Hill entered into the box business to begin with.
In the early 80's, after his military career came to an end, Dave Hill returned to the United States and wanted to begin a career in sales. He investigated the life insurance business first.
"People were making a lot of money back then in the life insurance business. I looked at that gig and I interviewed with one life insurance company. The way it worked was you were given a list of products you could sell and you couldn't change anything to adapt to a customer's needs or the environment," he said. Dave wanted something different, something with more potential for growth.
It was then, he said, that he had an epiphany about selling boxes. "What fascinated me with the box business is that you're selling a product you can influence. You can take something—anything—you can bring it into our store, and I can change it somehow." Innovation became a major strategy for The BoxMaker, and evolved into a kind of mantra: "Do Something Different".
"What's driven The BoxMaker," Dave says, "is the feeling that if we did something different, we should be able to expand each of the markets we became involved with."
Following the "Do Something Different" refrain led the business into other facets of the packaging world. Shortly after expanding the company down the I-5 corridor into Portland and Eugene, The BoxMaker purchased a label company. Then, The BoxMaker involved itself with a foam business and eventually absorbed it. Distribution and fulfillment followed, and two and a half years ago we entered into the digital printing market. Expanding The BoxMaker into these related packaging markets has allowed us to become a "single source supplier."
"We are the only company a business can go to and get boxes, the internal foam, and the internal packaging of any kind, with other types of filling," explains Dave. "We even close the box and put tape on it. There's no other distributor that manufactures, and no manufacturer that distributes in this market."
However, while business has constantly changed at The BoxMaker, two important strategies have remained the same: long-term regional locations in the Pacific Northwest and committed coworkers. The original 12 companies that contracted with Dave and The BoxMaker are still with the company over 30 years later, including the our single biggest client.
Employee retention is also very high; some individuals have stayed with the company for 15 to 20 years. And one exemplary coworker, Toni Lyerla, began as a receptionist in the Eugene office 31 years ago and is now the Vice President of Sales. Dave cites this phenomenon as his greatest reward at The BoxMaker: "That's the biggest compliment you have—when people stay and you've got them with you for so long."
In a world of chaos and transformation, The BoxMaker has found success because we innovate and evolve, constantly embracing different markets and packaging opportunities. Then again, our accomplishments and flexibility are only made possible by the unwavering dedication of our long-term staff, the one thing that has never changed.