Cannabis has had a long and complicated history in the United States. Washington became one of the first states to legalize recreational marijuana in December 2012, making it legal for medical purposes and for adults over 21. Currently, 9 other states and the District of Columbia have joined the legalization movement (with 29 allowing medical marijuana).
Public support for cannabis is now at an all-time high — no pun intended. According to Pew Research Center, 62% of Americans supported legalization in 2018, compared to 31% back in 2000. Thanks to the changing tides of public sentiment, the cannabis industry will only continue to grow as laws change across the nation.
Cannabis-based products are becoming commonplace, with major retailers like CVS and Walgreens selling non-psychoactive CBD (cannabidiol) products in select states. Consumer goods and food and beverage companies, such as Carl's Jr., are exploring ways to incorporate CBD into their offerings.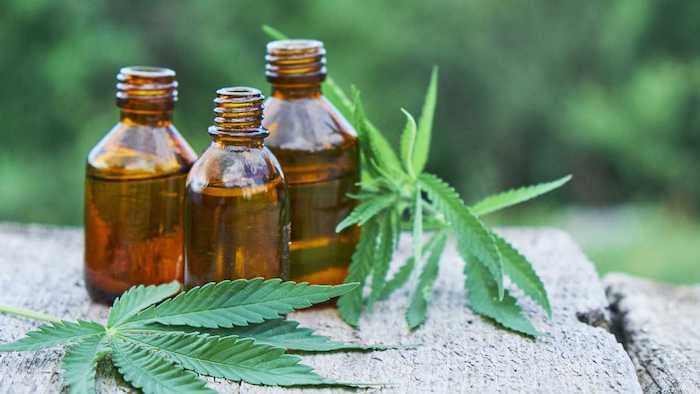 Since cannabis is relatively new to the retail world, and laws vary state by state, the industry faces a multitude of potential challenges. "Lawmakers need to be able to catch up with the changing market and understand the product, how it's being used and treated so it can be regulated accordingly," says Mikaela Nichols, Packaging Advisor at The BoxMaker.
All products that are legally sold in a retail marketplace need some form of protection, labeling, and a way to get from point A to point B. However, there are a few specific issues that only cannabis manufacturers face, and it just so happens that packaging can provide a solution. Here's how:
Cannabis Product Labeling
Cannabis companies must pay careful attention to labeling rules and regulations specific to each state, giving labels a big job to do. They're expected to communicate warnings, ingredients, expiration dates, recommended dosage, contact information, and much more.
In the state of Washington, policies are frequently changing to better regulate packaging. In 2017, lawmakers began to require a "Not for Kids" warning symbol to be displayed on all consumable cannabis product packaging. In December 2018, the Washington State Liquor and Cannabis Board (WSLCB) enacted a policy that limits the colors and shapes that makers of cannabis edibles can use to prevent it from being enticing to children.
Using traditional analog printing methods, such as litho lamination or offset printing, can be a costly solution for cannabis packaging due to the risk of obsolescence. This is because analog print methods require the manufacturing of custom print plates and tooling each time artwork is revised. As such, minimum orders are typically quite high, and traditional printing methods can result in longer lead times, delaying the speed-to-market.
"Many cannabis companies tend to over-order up to a year's worth of packaging, so they can attain a better price per unit based on their order quantity," Mikaela says. "While this may seem like they are saving money, they have thousands of dollars sitting on their shelves and this unused packaging runs the risk of becoming obsolete due to the laws changing or the brand becoming irrelevant or uninteresting to consumers."
As states release new and updated labeling requirements, digitally produced packaging creates an opportunity for cannabis brands to easily keep their packaging up-to-date. Since print plates and additional tooling are not required with digital print, brands can change out their packaging design as frequently as they wish (or are required to) without breaking the bank. "Digital print not only provides flexibility in the print versions but can also shave weeks off the timeline of what other typical litho-lam companies can produce," Mikaela says.
Cannabis Branding
With the retail cannabis market growing each year, it is increasingly critical for brands to distinguish themselves from competition. While the quality of a product is important, quality branding can mean the difference between making a sale or remaining on shelves.
One of the biggest changes that Mikaela has noticed in the cannabis industry is branding. "I'm happy to see that cannabis companies are treating their packaging with high standards and are willing to go to the next level, whether it's investing in spot gloss, metallic inks, foil, unique structural designs, or multiple versions," Mikaela says.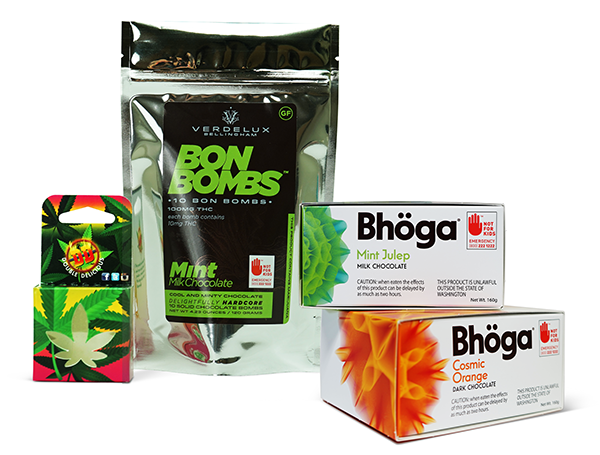 Fortunately for cannabis brands, digitally printed packaging provides a great way to test market new product packaging with select audiences or in select retail environments. Instead of putting all your eggs in one basket, why not launch your product into market with a few varied packaging designs to see which performs best on the retail shelf? Cannabis brands can use short-run digitally printed packaging to evaluate different packaging designs and discover what messaging best appeals to their consumers.
Cannabis Product Variety
From smoke-able cannabis to infused edibles, product variety in this industry is seemingly endless. Jars, shippers, bottles, folding cartons, and security pouches are just a few examples of containers in which to package entire product lines. The rise in popularity of CBD in the United States also introduces a new host of cannabis-related product varieties into the retail marketplace, such as creams, patches, and sprays.

To permeate the market, brands will be introducing more variety and testing out new products. This is why it's helpful to choose a packaging partner, such as The BoxMaker, who can serve as an all-in-one provider. It is much simpler to work with an onshore single-source supplier for many items than it is to work with several individual suppliers for single items. Working with a packaging partner based in the United States supports an efficient supply chain and faster lead times, since you don't have to deal with customs or other issues associated with sourcing packaging overseas.
Cannabis Packaging Design
With so many new products flooding the shelf, you can bet brands will be stepping up their packaging design game to capture attention on the shelf. Consumers looking to purchase cannabis products in a retail location are likely unaware of brand reputation – and most cannabis brands haven't been in business long to establish one. In situations like these, the consumer relies more heavily on the only other information readily available to make a purchasing decision: the packaging.
In addition to capturing the eye of the consumer, other factors that must be taken into consideration for cannabis products include: security, aroma control, ease of use, and how the consumer will continue to use the packaging after opening (is it intended for long-term storage or to be disposed of after opening?)
Cannabis brands are smart to invest in partnering with a packaging company that offers the support of a structural design team who can help think through these challenges. Instead of using multiple vendors to source additional product packaging, such as bottles, jars, and baggies, our sourcing team can serve as a single point-of-contact for your packaging needs.
Cannabis, Structural Design, Marketing and Brand Promotion, Packaging Solutions