It's unique, it's new, and you're pretty curious.

Looking to shake up the way you brand your story through print? Over the years, digital printing technologies have welcomed opportunities to experiment on a variety of substrates, but here at The BoxMaker we are always looking for innovative ways to broaden the use of tried and true methods.
When considering how to tell the story of your product, printing on foam is a medium that is often overlooked.
So why foam? As you are probably curious how printing on foam can complement your brand, let's examine a few reasons:
1. It's Innovative
The need for innovation in packaging is no different than innovation in other industries. With new technologies emerging regularly, it is important to be disruptive, to push the status quo in non-linear directions, and to test limits of packaging capabilities. Digitally printing on foam certainly fits this premise – while digital has been around for years, using this technology to print directly on foam brings a new medium to the playing field, opening up countless possibilities for advertising and marketing needs, or even printing personal photos.
2. It's Tactile
You may never pick up a digital POP display in your local grocery store to feel the Falconboard® and smell the print, but who's to say you wouldn't if the image was printed on foam? It's unique, it's new, and you're pretty curious. We all are curious by nature, and printing on foam certainly feeds that curiosity by giving us images that become even more tangible through our five senses.
3. It Can Add Life to Advertising
When digital print starts to look too similar for distinction, you know it's time for something new and fresh. Advertising lives for attention and memory recall, and printing on foam could be the component that makes your product stand out from the rest.
4. It's High Quality
While we can't pretend that printing on foam will produce a quality to rival other substrates, we can promise surprise at just how eye-catching foam printing can be. A digital printer lays down tiny dots of ink in patterns recognizable to our eyes and brains – while we all know a foam surface is quite different than a traditional printing substrate, with the right settings and ink coverage, your eyes and brain will see the image just as you see on your iPhone screen. Depending on the type of foam, you will see some variance to the print, as closed cell foam and foams with tight bead patterns work the best.
Here are some examples of print on 14pt Tango C1S Cover and again on Expanded Polyethylene Foam: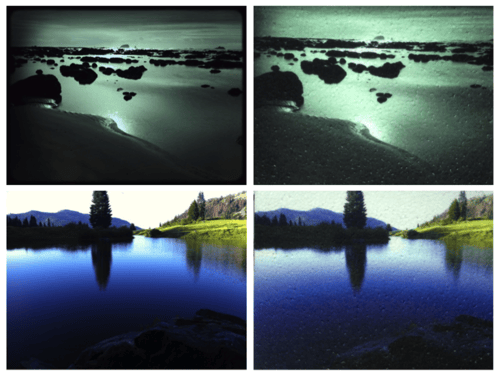 And if you have any questions about how the BoxMaker can help with your foam printing needs, contact us to learn more!
Digital Print and Production, Protective & Interior Packaging, The BoxMaker