This article originally appeared in October 2014 and has been updated with new information for our readers.
When placing an order for custom packaging labels, there are several key factors to keep in mind. Thinking through the complete lifecycle of your label, including the conditions under which it will be applied, what type of material it will be applied to, what visual effects are important to include, and how the label will be interacted with once it leaves your warehouse are all important considerations.
We have compiled 7 key questions to answer before you place your label order. Knowing these answers and sharing them with your label provider will ultimately help you achieve the result that you want with your next label project.
If you're thinking about ordering a label, here's what you need to know:
Question #1: What print method best fits to produce your label project?
Your labels can be produced on a traditional flexo press or digitally on a modern press (such as the newly installed HP Indigo 6800 at The BoxMaker). Depending on your project, one method may be a better fit over the other. Although many labels are still produced via flexo press today, the advantages of digital are many and include in-line continuous color calibration, variable artwork without the cost of additional plates, and the ability to order the exact number of labels that you want – be it 10 or 10,000.
QQuestion #2: How will the label be applied to your product, and what kind of substrate will the label be applied to?
You need to know whether you'll be hand applying or using a machine to auto apply the label to the finished product. Additionally, it is extremely important to know what type of material the label will be applied to because this can determine the type of adhesive that will best suit your needs. It also helps to determine the right type of face stock or top sheet the label should be made of. For example, if you're trying to wrap an oddly shaped bottle, you may need a face stock that will mold or stretch to the shape of the bottle along with a strong adhesive that will help keep it that way.
Question #3: What is the required re-wind direction?
This is most critical when labels are being applied with an auto-applicator because the product will be coming down a belt-fed system through the machine. If the labels are facing the wrong direction, they will be applied incorrectly.
Question #4: How many labels per roll do you need?
Generally, this is most important to customers using auto applicators, as you may have a maximum diameter that will fit on the equipment. You'll most likely want the rolls to be as large as possible to reduce downtime caused by switching out rolls.
Question #5: What core size and maximum out diameter do you need?
Again, this is most often information needed for those using auto applicators and will depend on the type of equipment. The standard is most commonly 3" core size, but there is a growing popularity of small "in-house" ink jet printers that take small roll stock and use different core sizes than normal.
Question #6: What type of conditions will the label be applied and stored in?
If the label will be applied at cold temperatures and then put in a subzero freezer for storage until it's shipped to the end user, then the application temperature and service temperature of the adhesive should withstand these conditions.
Question #7: Does the printing on the label need to withstand any harsh environment or conditions?
This can make a huge difference in the price of the label. If the label is to be placed outdoors in direct UV sunlight exposure, then you'll need "auto grade" inks, or inks that will withstand long exposure to extreme outdoor elements.
Once you have the answers to these questions, ordering your labels will be smooth sailing.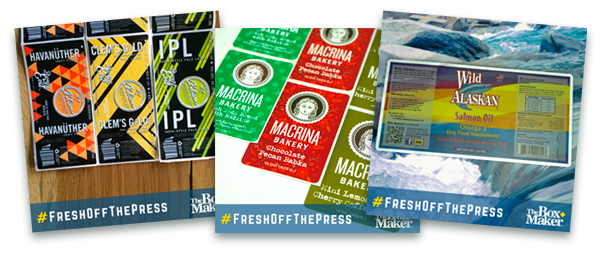 For inspiration, check out some of The BoxMaker's label projects here.