The success of any consumer goods brand can be directly associated with the effectiveness of its supply chain management (SCM). However, this is one of the least understood areas of business. SCM is a delicate yet complex system that follows the entire lifecycle of products from raw materials to delivery and end-use.
"As brands are fighting to stand out in a crowded marketplace, SCM can provide a significant competitive advantage," says Kelly Griffin, Supply Chain Manager at The BoxMaker. "Not only can it lower the cost of doing business, but effective SCM strategies can translate to a better customer experience."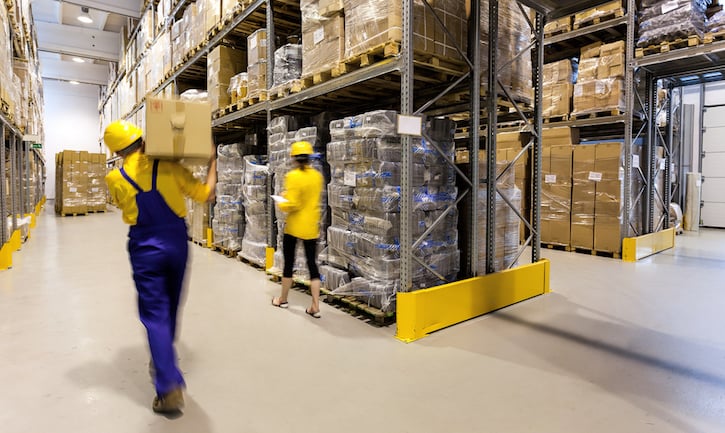 Take a minute to think about the time and resources spent overseeing your supply chain. Consider how much effort is required daily to keep the engine going. There are considerable arguments to be made for outsourcing this task to a third-party provider you can trust.
Why Outsource Your Packaging Supply Chain Management?
Outsourcing your supply chain means offloading the procurement, packaging, fulfillment, and distribution process. While many businesses think the cost of outsourcing outweighs the expense of keeping the supply chain in-house, that's not always the case.
Outsourcing either your entire supply chain or just certain functions can result in a variety of cost and efficiency benefits in the long-term, especially as your business grows.
Here are four benefits to outsourcing your SCM to an experienced partner, such as The BoxMaker:
Benefit #1: Minimize Inventory Risks
When it comes to SCM, a common mistake that brands make is ordering excessive inventory, known as an inventory overrun. If left unused, the item(s) can become obsolete or expire. Frequent inventory overruns can result in a financial hit for your business.
By working with your supplier you can mitigate these risks by ordering or stocking items in smaller quantities. At The BoxMaker, our extensive resources and vendor partnerships allow us to leverage our buying power to lower inventory levels (shortening inventory turns). A part of our expertise lies in finding the best material options based on your inventory needs.
Benefit #2: Control Cost
From distribution optimization to better inventory management, using a trusted partner can help minimize the overall cost of SCM. Some partners like The BoxMaker will also assume the costs associated with the supply chain, alleviating you from spending a penny until you are ready to ship.
For example: if we buy components in January, receive them and build the product in February, and hold the product on our floor through March until you have a purchase order to fill in April. You won't be expected to receive an invoice until after the product ships.
"Since we incur the cost of materials, labor, and other expenses from the beginning of the process, this takes a considerable amount of management off of our clients' plate," says Kelly. "This helps shorten the time from our client incurring inventory costs to being able to bill for their outbound shipments, creating a shorter cash cycle."
Benefit #3: Increase Supply Chain Efficiencies
Along with absorbing costs and mitigating risk, outsourcing SCM can improve efficiencies. By leveraging our resources, management tools, and decades of experience in vendor relations, distribution, and logistics, we can streamline supply chain processes beyond the scope of your current operation.
Whether it involves reducing lead times, sourcing more cost-effective or sustainable raw materials, or enhancing security, working with a trusted third-party partner can increase productivity with your profits in mind.
Benefit #4: Focus on Other Business Areas
Outsourcing your supply chain frees you to focus on other core competencies of your business, such as marketing a new product line or expanding into different markets. Outsourcing is particularly helpful for small businesses with limited internal resources and a minimal labor force. As a result, brands have the opportunity to be more productive and devote more attention to other areas of their business.
Shipping and Fulfillment, Supply Chain Management, Packaging Solutions