Floor marking tapes are faster, more flexible, and can be just as durable as traditional paint methods when it comes to marking your factory floors.
3M™ Industrial Tapes for Marking offer several product line solutions for a variety of warehouse situations. From changing factory floor layouts to quickly implementing social distancing for onsite visitors, industrial tapes give your team the power to adapt quickly to today's constantly changing business environment.
Here are 3 Ways to Effectively Leverage Industrial Tapes for Marking:
Avoid Wasting Time and Money with Paint
Paint is relatively permanent when it comes to marking your floors. Additionally, it takes time and labor to apply, not to mention added time to dry and for the fumes to clear. Mistakes are hard to fix, and anything beyond a straight line or right angle can be difficult to masterfully achieve.
3M™ Industrial Tapes for Marking are easy to apply and remove, so layouts can be changed fast. The simple application saves on time and labor costs, and tape requires no additional time to cure. There are no spills, clean-up, and no liquid chemicals involved. Think tape is just for straight lines? Think again. Tape can be manipulated to create curves and just about any other special shape needed.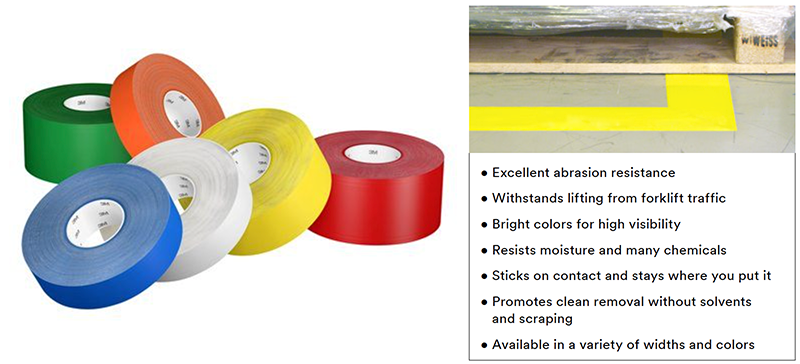 3M™ Ultra Durable Floor Marking Tape 971 is specially engineered to stand up to tough conditions where you need floor marking staying power. This product line's thick backing provides excellent abrasion resistance and withstands lifting from forklift traffic and dragging pallets. When it comes time to change the layout of your factory or warehouse, the unique adhesive promotes easy, clean removal from your floor.
Quickly Implement Safety Marking & COVID-19 Floor Marking for Social Distancing
Workplace accidents are not only devastating to the employees who experience them, but they also incur significant cost and lost time for their employers as well. Safety marking is a must in any busy warehouse environment were forklifts, falls, slips, and trips are the leading causes of injury.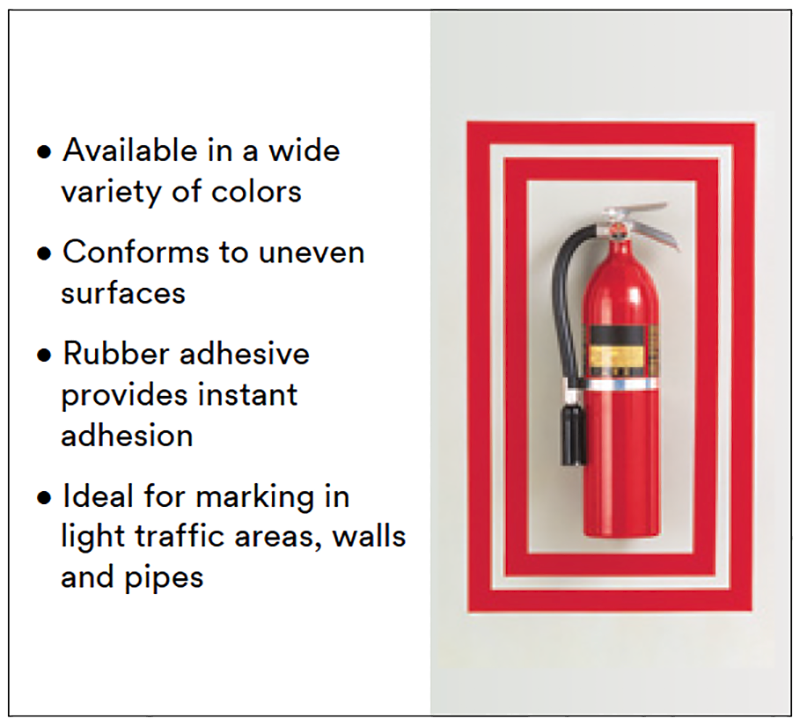 3M™ General Purpose Vinyl and Hazard Marking Tapes are the cost-effective choice for a variety of safety marking and color-coding applications where you don't see tough conditions or the need for long term clean removal. Conformability, instant adhesion and easy unwind make these tapes ideal for marking equipment, walls and pipes.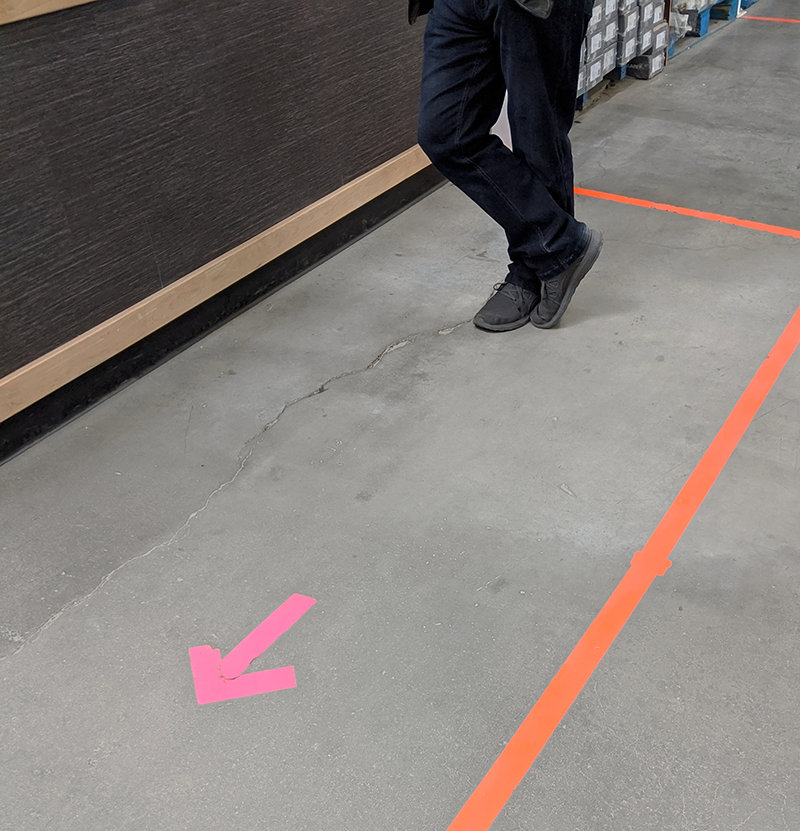 In the wake of COVID-19, the need to quickly mark floors for social distancing and public safety has become a new concern for businesses of all kinds. Floor marking tapes allow for quick and durable solutions to be implemented that can withstand daily use for the duration of the pandemic.
Easily Implement and Update 5S LEAN Practices
LEAN as a process of continuous improvement is, by its very nature, constantly evolving within your organization. You need a marking system that can keep up. 3M™ Industrial Tapes for Marking can be used to easily implement, update, and expand 5S initiatives throughout your business.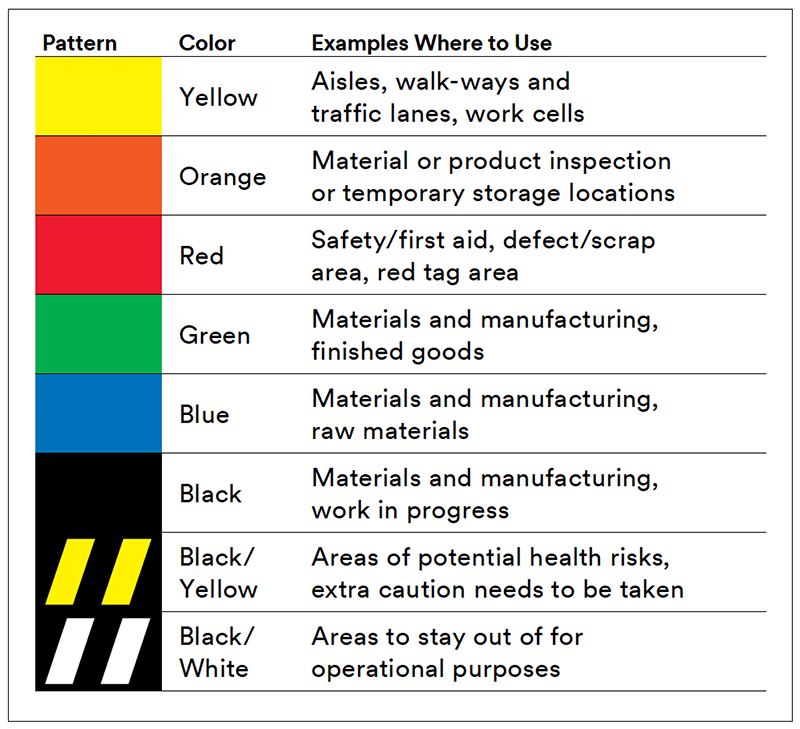 The 5S visual management system helps make it easier to ensure your workplace is more organized, efficient, productive, and safer. 3M's convenient pack of color-coding vinyl tapes can help implement the 5S system by providing floor marking and safety identification. The included 3M™ Vinyl Tapes and 3M™ Safety Stripe Tapes come in a variety of bright colors that are locked into the vinyl for long term high visibility. Perfect for lane marking, hazard and safety marking of floors, loading docks, shipping areas and warehouses.
Industrial tapes for marking deliver value to your business by streamlining your processes and simplifying operations for your people. Use them throughout your facilities and start experiencing a more productive, safe, and LEAN environment.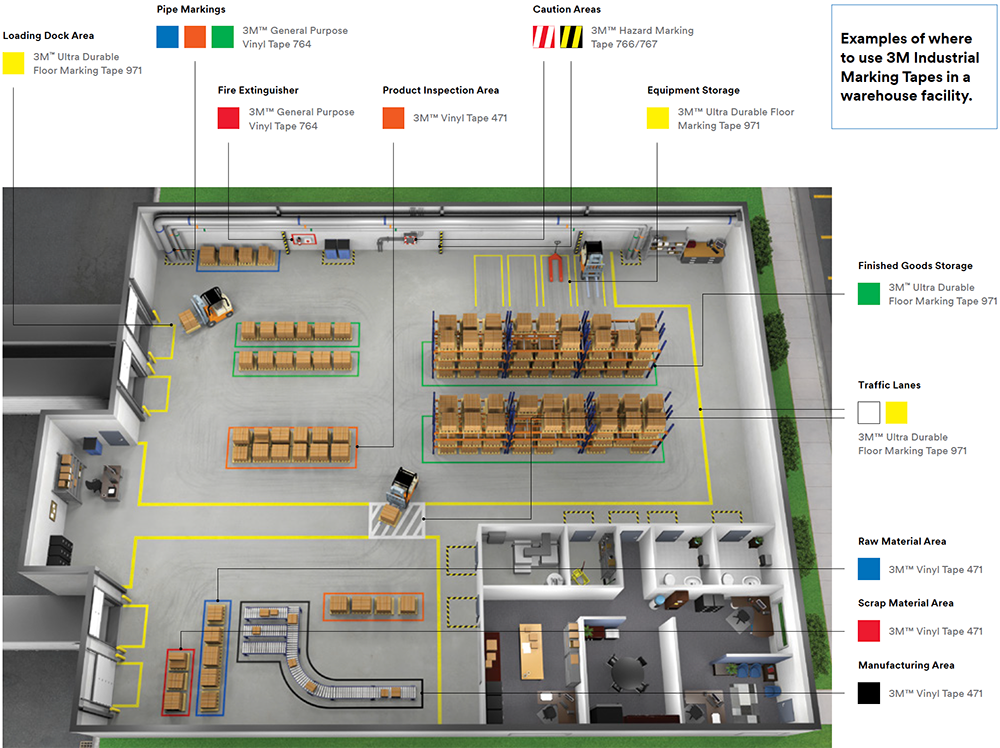 Ask The BoxMaker How
As a 3M™ Associate Converter, The BoxMaker's team of Packaging Advisors are specially trained to assist you in identifying ways to optimize your warehouse floor with 3M™ products.